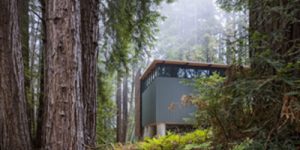 The University of California (UC) has expanded its Santa Cruz campus with a new Environmental Health and Safety Facility, designed to manage hazardous waste generated by teaching, research, and campus maintenance activities.
Designed by The Miller Hull Partnership, the new facility includes laboratories, waste-handling facilities, temporary storage, administrative offices, and support space to allow the unit to better respond to the increased requirements for hazardous material handling and other critical life, health, and safety services.
The site includes a small knoll and is defined by the steep ravine and mature redwood trees. The building is constructed on caissons to be light on the land and allow natural drainage and existing root systems to remain below the building. All stormwater is managed on-site with direct infiltration, and a below-grade storm drain detention structure with outfall to level spreaders distributed across the site.
In order to capitalize on the mild climate of the northern California coast, the building employs an indoor/outdoor secure circulation hallway with cover overhead and a redwood timber horizontal screen wall at the building perimeter. This open-air hallway separates hazardous areas of the building and utilizes natural air movement through the redwood timber screen to provide makeup air for normal and emergency exhaust operations. High windows, just below the roofline, provide daylight to storage and material handling rooms with solid walls for storage functions to a practical height. The daylight reduces the reliance on artificial light and provides increased safety in high-hazard spaces.
Designed to blend with the natural landscape, the new facility will help ensure the university continues to comply with state and federal regulations, and support the future waste generated by the growing campus.