by Jake Oberle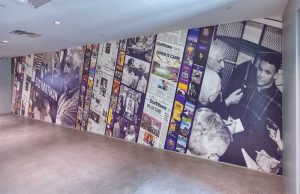 Whether starting a project right from scratch, preserving historic structures, or refreshing existing spaces, architects and designers are always seeking innovative ways to push the envelope. Every day, new product options are introduced into the marketplace as manufacturers attempt to create the best tools for design challenges. Architectural film finishes provide a strong solution for individuals looking to create an immediate impact.
Offering a more turnkey and dynamic choice as compared to paints and coatings, architectural film finishes offer architects the opportunity to turn their design vision into a reality quickly and efficiently. Saving on the time and energy needed to gut a space and start from scratch, architectural finishes can transform a space with minimal downtime. From decorating a glass door to refreshing outdated cabinetry, these products provide customizable solutions for an array of design projects.
Making a home for the Vikings
U.S. Bank Stadium—located just blocks from the Mississippi River in Minneapolis and home of the National Football League's (NFL's) Minnesota Vikings—opened its doors in 2016 and is now an integral piece of the city's skyline. Before the stadium was built, the team played at the Hubert H. Humphrey Metrodome for more than three decades.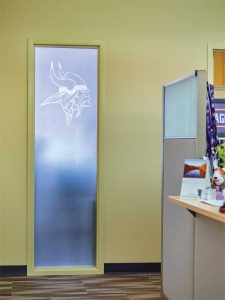 In 2013, under the weight of heavy snow from a bitter Minnesota winter storm, the Metrodome's roof had collapsed. The end of an era led to a new beginning, but it necessitated hard work and detailed design.
At 163,580 m2 (1.75 million sf), U.S. Bank Stadium is twice the size of its predecessor and the largest project ever built in the state. Both architectural impact and fan experience were paramount when conceptualizing the interior and exterior design elements.
"With other stadiums in the marketplace being as sound as they are, and knowing the passion of our fan base, there was pressure to do it right and ensure that we include the amenities the fans want," said J.P. Paul, vice-president of relations and corporate development for the Minnesota Vikings.
When designing the stadium, comfort, accessibility, and ease of navigation were top priorities. Project managers wanted every part of the fans' experience to be not only enjoyable, but also memorable and awe-inspiring. The design team also strived to ensure the Vikings aesthetic and branding components themed the entire space, contributing to a sense of both team and state pride.
To achieve a variety of design goals, three different architectural film finishes were installed throughout the stadium.
Wood-grain film finishes
In an effort to make navigating the large space as easy as possible, specific design components were assigned to different areas. For example, natural wood-grain architectural finishes were added to the concession stands to help them stand out. Concession stands are a vital stop for a fan on his/her way to watch the big game, and the uniformity ensures visitors are able to quickly identify food-service stations from afar.
Glass film finishes
In the stadium, eight mini-suites on the turf were constructed using glass dividers. To maintain privacy between the connected rooms while also providing a cohesive aesthetic, glass finishes were installed. As an added benefit, the frosted appearance of the film allows guests to enjoy the game in private comfort without sacrificing the natural light pouring in from the stadium's one-of-a-kind glass roof. This is crucial to keep the stadium functioning year-round due to the frigid Minnesota winters.
Additionally, glass finishes were employed in the administrative offices as well as other surfaces in the stadium such as the glass walls where the Vikings logo was etched onto the film.
Graphic films
Throughout the stadium, as well as in the team's administrative offices, graphic films were applied to windows and walls to bring the classic Vikings aesthetic to life. The designs on these films include tributes to legendary Vikings players and coaches as well as the history of the football team and its fans.
Graphic films provide architects and designers with a design solution allowing them to expand the creative impact of glass. The design possibilities are virtually endless with the ability to mix and match patterns. Additionally, creating new designs and layering films unlocks even more ways to optimize the look of a space. This versatility is ideal for spaces such as stadiums, restaurants, and shopping centers.
It is important architects consider the wide variety of uses for graphic films. As seen in the U.S. Bank Stadium, graphic films can be employed to create consistent branding, but there are many other applications as well. In addition to wall and window use, these films can be employed in floor applications to make a great addition to a public space. Floor graphics can be used as wayfinding tools to guide guests throughout the space, making a structure easy to navigate and minimize confusion. Appropriate surfaces for floor graphic installations include waxed vinyl, sealed concrete, marble, ceramic tile, sealed wood, and terrazzo.