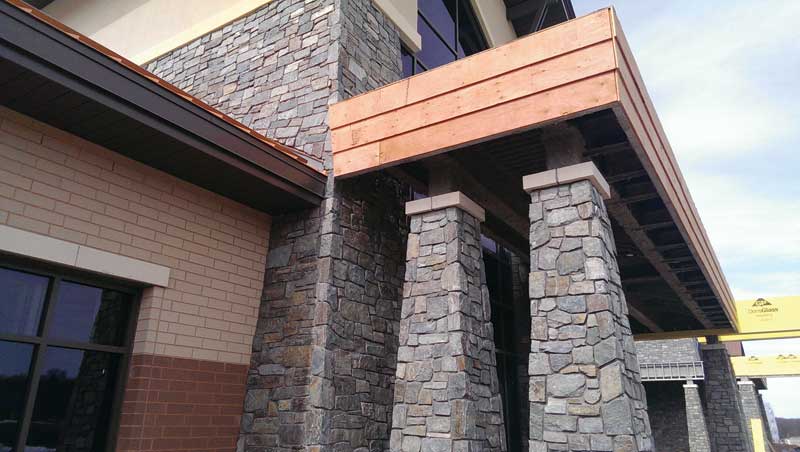 by Pat Conway, CSI, AIA
Adhered masonry veneer assemblies are gaining a greater share of the building enclosure market because architects and building owners like their appearance, thin profile, lightweight features, and potential for cost savings. However, designing and constructing these exterior wall systems is becoming more complex with a wider array of cladding product choices, dry-stack configurations, greater expanse of material being used on exterior building elevations, continuous insulation (ci) challenges, drainage mat debates, durability concerns, and conflicting installation recommendations.
Adhered masonry veneer code requirements are indicated in both Chapter 14 of the International Building Code (IBC) and Section 6.3 of the referenced national masonry model code and specification, Building Code Requirements and Specification for Masonry Structures (i.e. The Masonry Society [TMS] 402/American Concrete Institute [ACI] 530/American Society for Civil Engineers [ASCE] 5 and TMS 602/ACI 530.1/ASCE 6). In addition to formally referencing the national masonry model code, IBC also mandates designers to follow manufacturer installation recommendations (Figure 1).
Some of these manufacturers have customized installation instructions for their products, while other suppliers simply point designers to 'typical industry standards' or guides written by masonry trade associations. Other companies refer to their own proprietary third-party installation recommendations such as their respective International Code Council's Evaluation Service Reports (ICC-ESR). When using thin manufactured masonry units, such reports serve as reputable sources of objective and definitive information regarding unit properties and installation recommendations. In fact, ICC-ESR, Section 5.1 states: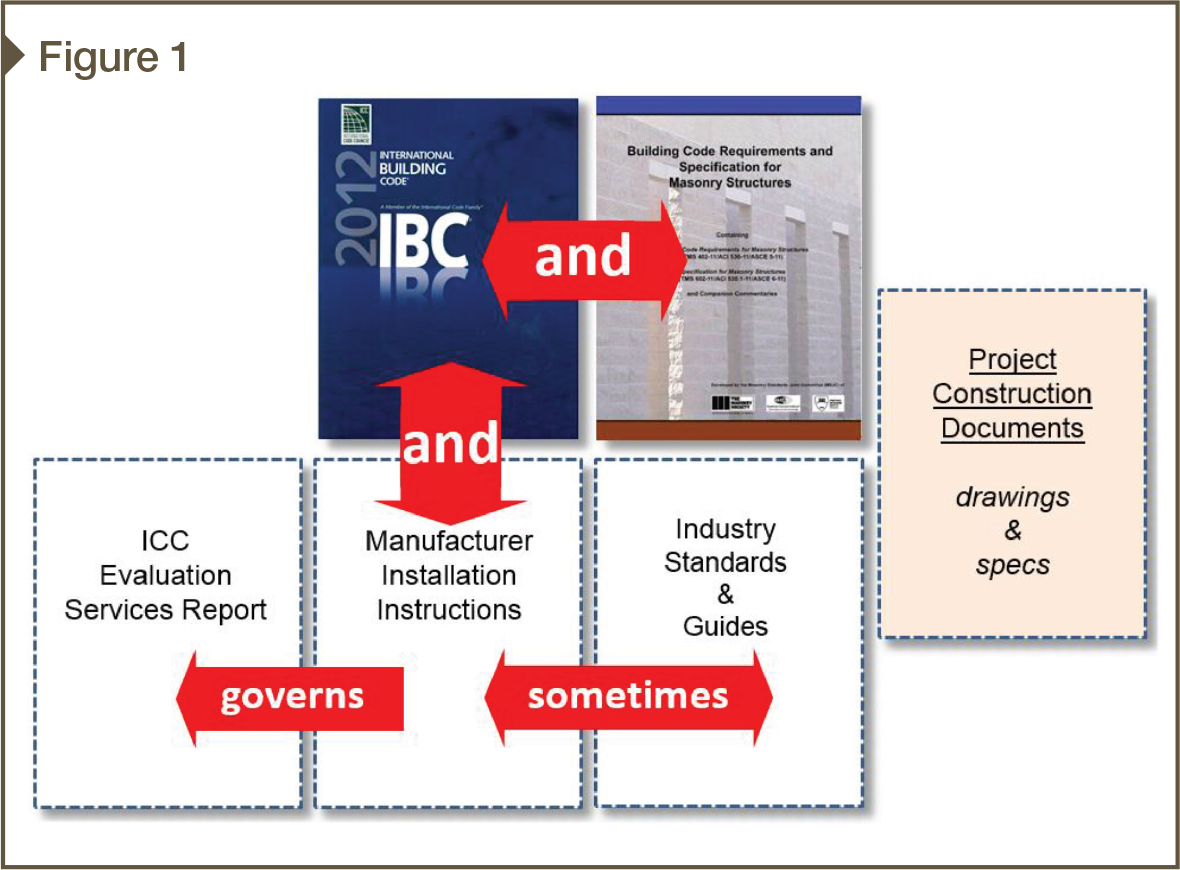 In the event of a conflict between manufacturer's published installation instructions and this report, this report governs.
When it comes to both natural and manufactured adhered masonry systems, recently published ASTM standards support both the units and their installation. Thin manufactured stone units are now covered by ASTM C1670-14, Standard Specification for Adhered Manufactured Stone Masonry Veneer Units, while installation of manufactured stone veneer units is addressed by ASTM C1780-15, Standard Practice for Installation Methods for Adhered Manufactured Stone Masonry Veneer. Natural thin stone veneer, on the other hand, is supported by ASTM C1242-15, Standard Guide for Selecting, Design, and Installation of Dimension Stone Attachment Systems, under Section 6.7. (In addition to these new ASTM standards for thin natural stone products, two helpful supplier-authored guides include Indiana Limestone Company's Thin Veneer Installation Guide, and Natural Stone Veneers International's Installation Guide & Helpful Tips).
For manufactured thin veneer units, common industry guides include the Masonry Veneer Manufacturers Association's (MVMA's) Installation Guide and Detailing Options for Compliance with ASTM C1780 for Adhered Manufactured Stone Veneer and the National Concrete Masonry Association's (NCMA's) TEK 20-1 (2014), Key Installation Checkpoints for Manufactured Stone Veneer. In addition to these design and installation resources, the International Masonry Institute (IMI) has an informative seminar titled, "Adhered Masonry Veneer Systems," reviewing pertinent building codes, industry literature, different adhered masonry veneer assembly options, and installation photos.
Since there are multiple design and installation resources available, designers should be careful to compare the various documents for possible conflicts. In addition to potentially contradictory design and installation resources, some designers and specifiers take it upon themselves to create unique design and installation parameters with sometimes incomplete or unclear construction documents that can result in inaccurate bids, multiple RFIs, change orders, confusion during the installation process, and schedule delays. This lack of clarity can yield wall performance issues for building owners, hardships for builders, and unexpected project management hours for designers.
When designing adhered masonry veneer systems, it is also important to consider local codes. For example, 10-mm (0.4-in.) drainage mats are required behind adhered veneer claddings in Canada, and California has its own code citations for adhered masonry veneers applied to schools and healthcare facilities.