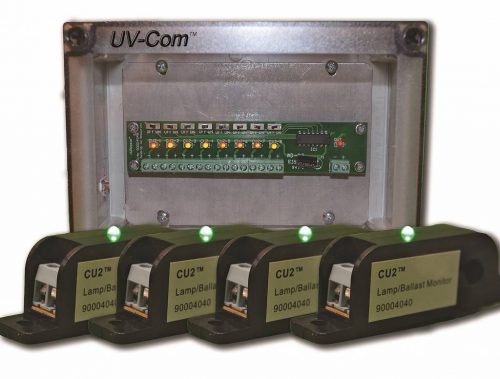 Controls and safety
UV-C systems have relatively simple controls, most of which pertain to safety. A typical control package includes a cutoff switch located just outside the plenum door, as well as door interlock switches, which turn off the lights when an access door is opened. Access doors can also be equipped with a UV-C-blocking viewport to facilitate lamp inspections.
Simple, self-powered current sensors showing whether a particular lamp/ballast combination is on or off are now in greater demand. Multiple lamp/ballast sensors can be fed into a replicator, which relays one signal to the building automation system (BAS) to represent up to eight lamp/ballast combinations (Figure 8). They also can be chained together to represent a virtually infinite number of lamp/ballast combinations with one signal. Additional programming can be added to alert operators if a lamp or ballast is out, which eliminates the need to visit each AHU to check for failures, especially as the 9000-hour useful life expectancy window approaches.
Facility staff must wear proper eye protection when inspecting UV-C lamps, and ensure these lamps are turned off during replacement. While controls are designed into the UV-C system, commissioning providers need to check they are appropriately documented and properly functioning.
Conclusion
UV-C light is an effective and affordable technology for keeping critical components of commercial HVAC/R systems clean and operating to as-built specifications. Benefits of applying UV-C lamps in HVAC/R systems include greater energy efficiency, lower operating expenses, fewer occupant complaints, and better IAQ. This technology is relatively easy to apply, involving installing a bank of UV-C lamps in an air handler or a rooftop packaged system, then replacing the lamps annually.
Daniel Jones is the president and co-founder of UV Resources. He is an American Society of Heating, Refrigerating and Air-conditioning Engineers (ASHRAE) member and a corresponding member of ASHRAE Technical Committee (TC) 2.9, "Ultraviolet Air and Surface Treatment," and ASHRAE Standard Project Committee (SPC)-185.2, "Method of Testing Ultraviolet Lamps for Use in HVAC/R Units or Air Ducts to Inactivate Micro-organisms on Irradiated Surfaces." Jones may be reached at dan.jones@uvresources.com.