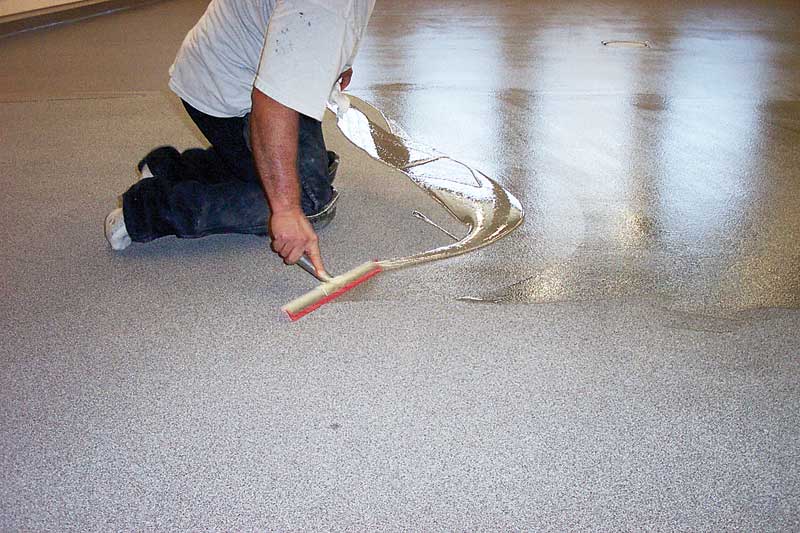 Mitigating odors
Odor mitigation needs can also contribute to increased downtime. Depending on the flooring choice, the contractors may need to set up a negative-pressure containment assembly to ensure worker safety during installation. Such systems contain and capture indoor air particles and odors to minimize air toxicity and reduce flammability potential.
To set up a containment system, workers must construct a physical barrier separating the work area from the rest of the facility and seal off any HVAC return air vents. They must then set up fans and high-efficiency particulate arrestance (HEPA) filtration devices to introduce clean air and exhaust dirty air. These steps all take time, adding to facility downtime and project costs. Specifiers may wish to reduce that added downtime and cost by substituting MMA with PAE, for example, to eliminate the need for an odor mitigation system.
Odor mitigation is especially critical in renovation projects, as the building may be occupied during the flooring installation. This may necessitate night, weekend, and/or holiday work, adding to labor costs. The same may be true for new construction projects, so flooring installers do not affect the health and safety of other trades working on the building.
Surprisingly, the odor of a flooring system has very little to do with its level of volatile organic compounds (VOCs) or with a project's ability to earn points under the Leadership in Energy and Environmental Design (LEED) program. One would expect a low-VOC system to have low odors, but this is not necessarily the case—MMAs have a pungent odor, but can have zero VOCs. Specifiers should check with their manufacturer's representative to determine the odor potential of a product, but they can view VOC information directly on data pages. The most common credit for resinous flooring is LEED 4.2, Low-emitting Materials: Paints & Coatings, which sets a maximum limit of 100 g/L VOCs for floor coatings. Most of the available flooring systems are high solids formulations that meet this restriction and will qualify for one point under LEED 4.2.
Keeping labor costs in check
While the contractor has the final say on how many crew members to use for a given job, specifiers can influence labor efficiencies by recommending flooring that is easier to install. Systems with fewer application steps and/or faster cures can help reduce labor needs for a project. However, the installation's size, scope, and complexity have the most impact on labor requirements. Site supervisors and general contractors can help reduce labor needs here by strategically scheduling trades so the flooring installation occurs before any obstacles are set in the way. For example, installing a floor system for a public restroom at an educational institution requires more time and labor if the stall partitions are already in place and the flooring contractor needs to cut in around the legs of each partition.
GETTING TO KNOW RESINOUS FLOORING
For the four main flooring system chemistries, critical performance characteristics can be compared using a good-better-best scale. Each characteristic contributes in some way to the downtime, labor, and longevity factors comprising the true costs of a floor. The systems can be applied over existing resinous flooring with minimal risk, although crews will need to carefully clean, degrease, and mechanically prepare the existing system to ensure adhesion of the new system. Still, there is some risk the original system was improperly applied, meaning it could lift off the concrete substrate even if the new application adheres to the original system.

Epoxy systems
These cost-effective, medium- to heavy-durability floor coatings can be applied at thicknesses from 1 to 9.5 mm (40 mils to 3/8 in.). Quick to install, they are slow to cure and have the lowest initial cost per area. They have good chemical resistance but low abrasion resistance, which can lead to wear patterns in high-traffic areas.

MMA
Methyl methacrylates (MMAs) offer the fastest option for flooring installations by installing and curing rapidly. However, that rapid speed comes with a price premium. MMAs have a high odor, which often necessitates the installation of mitigation systems during applications. They have excellent weathering resistance, allowing their use for exterior applications.

Urethane concrete
Self-leveling slurry or mortar urethane systems offer fast installation turnaround times due to their rapid curing and moisture-tolerance properties. They have a high tolerance to moisture vapor emissions (MVEs), enabling them to be applied to green concrete. They can be returned to service just 12 hours after topcoating and have excellent chemical resistance.

Vinyl ester
Available in thin-mil to high-build coating systems, vinyl esters offer high resistance to chemicals and weathering. They provide resistance to many aromatic and aliphatic solvents, organic and mineral acids, and strong oxidizers, as well as excellent resistance to thermal degradation. Vinyl esters protect concrete surfaces in immersion and atmospheric exposure and are ideally suited for lining, containment, and flooring applications in various facilities.