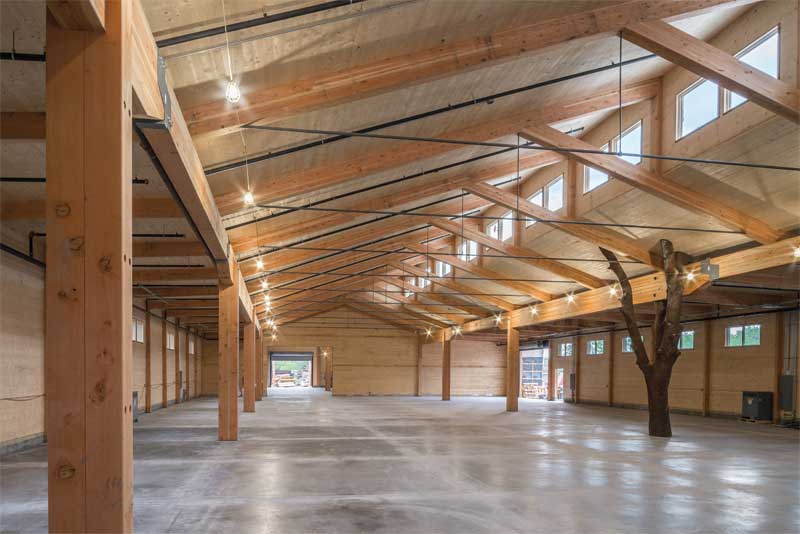 by Tom Lambert, Jonathan Orpin, and Megan Larmouth
Mass timber—specifically cross-laminated timber (CLT)—continues to spread across the nation as an alternative to traditional concrete and steel construction. CLT panels are described as large-scale, predesigned, and highly engineered for precise tolerances. They reduce infiltration of outside air, allow extremely efficient raising time, and leave little to no waste onsite. The material comprises three, five, or seven layers of dimensional lumber are typically oriented at right angles and glued together to form structural panels with exceptional strength, dimensional stability, and rigidity.
For New Energy Works Timberframers, the catastrophic building failure of its World War II-era fine woodworking shop opened the door to rebuilding in a way that fit the company ethos for strict environmental considerations and elevated craftsmanship. In the winter of 2015, the roof of the shop collapsed under heavy snow load. Although no one was injured, 929 m2 (10,000 sf) of the 1393-m2 (15,000-sf) space was destroyed. The company saw the collapse as an opportunity to unify its craftspeople onto one campus in Farmington, New York, and to rebuild with environmentally responsible materials. Talks of construction of a new shop quickly turned to the growing trend of mass timber.
CLT offered the company a way to create shelter with a renewable resource—one that sequesters carbon, naturally storing it in the wood. This is significantly different from carbon-heavy materials such as steel and concrete. Further opportunity existed in a hybrid construction integrating several wood materials: CLT, heavy timber, glued-laminated timber (glulam), and even exterior wood fiber insulation.
New Energy Works designed, built, and erected the 1951-m2 (21,000-sf) NEWwoodworks facility—the first complete CLT project in New York State—with CLT wall and roof panels wrapping a timber and glulam frame. The mass-timber hybrid approach allowed for different configurations of CLT, which was integrated with the timber system to maximize efficiency of material and effectiveness in buildings' structural capacity.
CLT offers various benefits, including:
precise prefabrication, which allows for quick installation and meeting of tight tolerances (such as less air infiltration and better efficiency);
flexibility for single- or multistory buildings;
less jobsite waste;
a lighter weight than steel, meaning smaller footers and fewer materials; and
use of lower-grade, smaller-dimension wood sources, which minimizes deforestation of mature or old-growth wood.