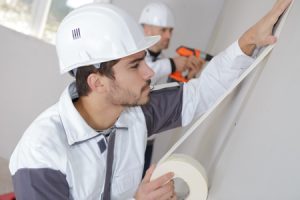 by Michel Merkx
Pressure-sensitive adhesive (PSA) tape can be utilized for walls and ceilings in myriad ways, going far beyond its typical usage in drywall applications, and into decorative and design purposes. Depending on the needs of the user, PSA tape is developed for a variety of performance capabilities, with specific properties for specific applications. If the user wants to use PSA tape for a permanent application, it is important to apply a PSA, such as double-sided tissue or acrylic foam tape, with the ability to provide a range of options. Similarly, there are permanent or semi-permanent differential PSA tapes available, among them clean removal tapes, which allow for little to no damage to the surface of the wall or ceiling being adhered to. This quality is typically difficult to achieve with other adhesives or mechanical fasteners.
Tapes are developed for specific purposes including barrier and insulation applications. Various PSA tape backings, such as aluminum or multilayer films, can create a vapor barrier protecting insulation, and are characterized by strong adhesion and superior resistance to harsh internal environments.
In their paper, "Successful UV curing & communication for Pressure Sensitive Adhesives (PSAs): It is as simple as a day at the movies, for the 2015 Pressure Sensitive Tape Council (PSTC) technical seminar, Jim Raymont and Paul Mills mention the need for a right balance of adhesive and cohesive forces.
"PSAs performance can be evaluated in terms of tack, peel adhesion (adhesion) and shear strength (cohesion). Tack is the ability of an adhesive to adhere quickly. Peel adhesion is the ability to resist removal by peeling and shear strength is the ability to hold in position when shearing forces are exerted. Generally, tack and peel adhesion are directly related to each other but are inversely related to shear strength," wrote Raymont and Mills.
According to Graeme Roan, a market development manager, wall and ceiling construction professionals can often find themselves in need of bonding solutions offering greater compatibility with advanced building materials.
"This is the perfect opportunity to use PSA tape in tandem with another solution for a 'hold-in place' application," he said.
Data gleaned from PSTC's recently-released Phase II of its research report, "Maximizing Usage of Pressure-Sensitive Adhesive Tape in the Construction Vertical," specifically addressed that using PSA tapes in tandem with other bonding solutions can provide additional strength and allow for a more permanent bond between materials.
According to the report, energy efficiency, moisture and air management, and environmentally-sound practices are expected to have significant impact on the selection of bonding solutions for construction applications in the future, suggesting secondary benefits of PSA tape may be increasing in relevancy. The report indicated PSA tape does not only provide greater durability and allows for more precise placement, but it also works better with newer and more advanced building materials.
Dennis Schulmerich, market development director at a tape manufacturing firm, explains how using drywall tape with PSA is a good example of this marriage between materials.
"It is very useful in drywall installation and seaming as it can be applied prior to use of any joint compound, and is quick and easy. The installer can simply apply the PSA tape over the seam and then apply joint compound. Typically, PSA drywall tape is a mesh material which allows the joint compound to penetrate through to the drywall and helps minimize air bubbles," he said.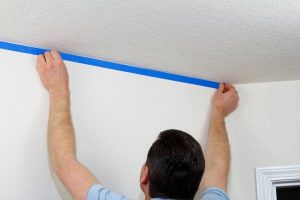 Construction professionals can also use PSA tape to help protect walls during construction and/or painting. Using lightweight plastic sheeting is helpful in protecting the walls when painting, spraying, or texturing a ceiling or adjoining walls. Double-coated masking tape is suitable for this project, as it offers temporary protection and clean removal. This type of tape is also best for paint jobs not only due to its ease of removability, but to protect edges when painters are looking for a clean line. Schulmerich notes single-coated masking tape—also known by the popular "painter's tape" name—is different from double-coated in that it usually contains an edge-blocking compound to prevent the paint from penetrating or seeping through.
Employing tape for decorating purposes has become popular in the last few years, and although taping lightweight décor on the walls may seem like the easiest solution, it is important to ensure the correct PSA tape is used. Certain brands and styles are easily removable, coming with a pull tab allowing contractors to quickly and easily remove the foam pad and adhesive from the wall. Other styles are designed to be permanent and require cleaning for full removal. To permanently mount a mirror or temporarily affix lightweight decoration to the wall or ceiling without using nails, double-sided tape is a great choice for architects and builders. Depending on the components used within a tape, the type of adhesives, backings, and primers making up the adhesive tape define its characteristics and can be adjusted to the demands of an application. If looking to avoid obvious seams or nail holes is the objective, PSA tape can be easily hidden behind objects without compromising the adhesive strength.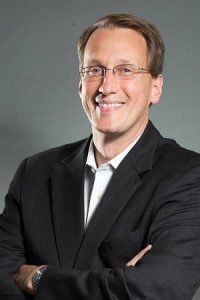 Michel Merkx is vice-president for the global tape division of American Biltrite. He brings his knowledge and expertise about pressure-sensitive materials, production processes, labels, and various market trends to his current role as the president of the board of directors for the Pressure Sensitive Tape Council (PSTC). Merkx holds an MA in international business management and an MBA. He speaks Dutch, English, French, German, and Spanish. Merkx can be reached at info@pstc.org.