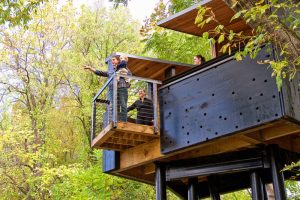 Students and faculty at Virginia Tech recently completed the New River Train Observation Tower project in rural Blacksburg. It demonstrates an approach to low-carbon design and construction using the university's own interdisciplinary research.
Over a two-year period, the team partnered to research, design, and build the 23 m (75 ft) long by 9.14 m (30 ft) high public building. Early in the design process, the students chose to focus on an emerging building technology, using cross-laminated timber (CLT) for its strength, sustainability, and spatial properties. As the design process progressed, the project team discovered the carbon cost to ship industrially produced CLT panels to the site was too high and, as such, the team decided to "think local."
Following the culmination of years of research across multiple university departments, the team selected custom-developed, hardwood cross-laminated timber (HCLT), which uses low-grade Yellow Poplar lumber regionally sourced from oversupplied, hardwood-dominant forests. Research began at the scale of a lab sample and resulted in the 1.5 x 3.05 m (5 x 10 ft) high-strength panels. The team was able to incorporate architectural features into the project which aligned with the HCLT's robust performance metrics, namely 76 mm (3 in.) thick structural cantilevers, and exterior exposed structural members.
The observation tower's architectural design involves two modular HCLT cubes which are bisected by a public walkway. The walkway begins at grade and culminates in a 6 m (20 ft) high cantilever as the site drops steeply towards the river. Due to complicated site logistics, the project team entirely prefabricated one HCLT module that was then subsequently craned into place onsite, with a 152 mm (6 in.) tolerance from surrounding trees.
The New River Train Observation Tower is one of the first projects to use modular HCLT construction methods in a permanent building, engineered to keep the cantilevering, panelized system water protected and safe from racking during construction. Each screw hole was saturated with liquid wax, and the entire exterior envelope was coated in a linseed oil and natural pine tar mix to protect it from ultraviolet (UV), heat, and moisture damage.
The project is the first permanent, HCLT building permitted in the U.S. The research and development process that piloted the custom upcycling of low-value locally sourced materials has set a benchmark for low-carbon, research-based, sustainable construction.