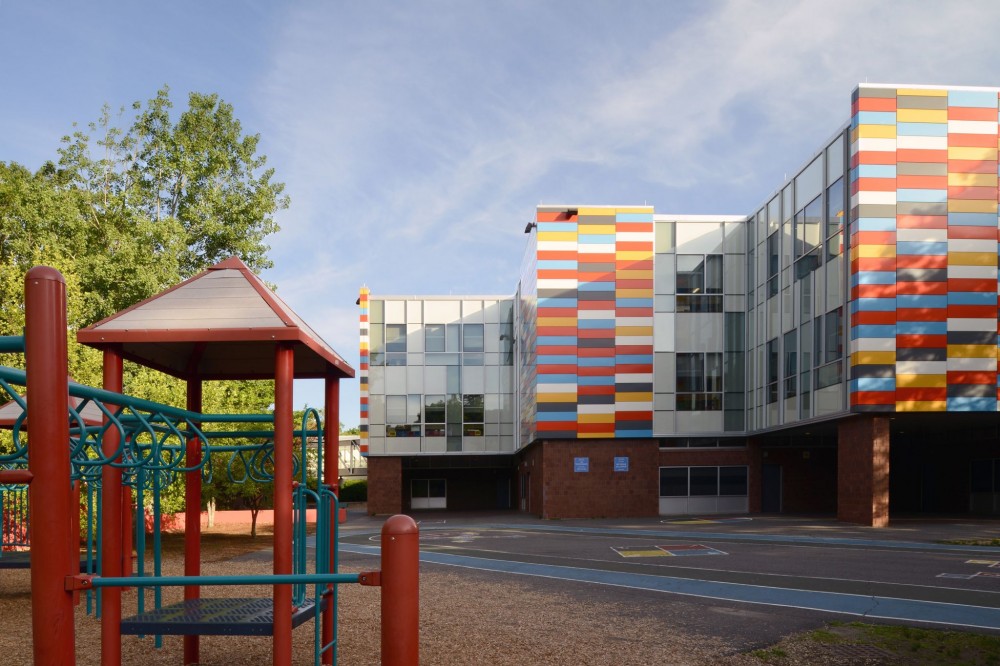 by Ben Mitchell, CSI
When powder coatings—solvent-free paints applied to metal and other conductive surfaces—were first introduced, they were heralded as a vastly superior product, and were expected to quickly replace liquid paint and anodization.
The coatings were gaining visibility at a time when green certification was also in the spotlight, and volatile organic compound (VOC) content was often the only criterion being used to measure a coating's success. The fact powder is VOC-free was its biggest selling point. However, liquid paint has had more staying power than many predicted. The adoption of powder coatings has turned out to be an evolution, rather than a revolution.
To understand what attributes of liquid paint are causing it to remain popular, it is important to take a look at a broad range of considerations, including color options, cost, ease of use, and performance. The question of when to specify a powder coating versus a liquid paint—and when to stick with an anodized surface—depends on many variables.
Liquid, powder, or anodized: What's the difference?
In liquid form, paint comprises three principal ingredients: resin, pigment, and solvent. In some formulations, a cross-linker is included to form a thermoset film. Powder-applied coatings contain the resin and pigment, as well as a cross-linker, but no solvent. It is this lack of solvent that renders them VOC-free. Regardless of the form in which the coating is applied, the resin binds it to the substrate and provides the weather resistance and durability properties desirable in an architectural finish.
Anodized metal is really not 'coated' in the usual sense—rather, its surface has been chemically converted. Aluminum naturally develops a thin oxide layer and anodizing increases this aluminum oxide layer by electrochemical means. The anodic film of aluminum oxide then acts as a protective layer.
Anodizing, though an old technology, still has its uses. It results in an attractive finished surface that is extremely abrasion-resistant, though there are fewer color options. Currently, anodizing represents 30 percent of the North American market, largely because it is inexpensive. Its high electrical energy, water usage, and waste generation in production make it an environmentally poor choice, which likely dictates an eventual reduction in its use.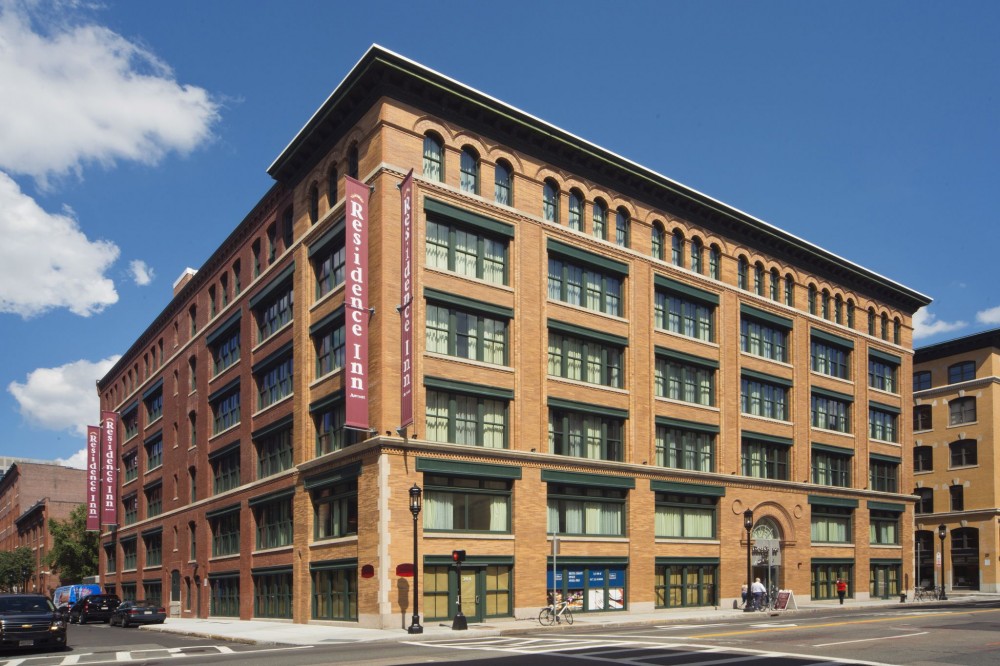 Know what you're getting
A common mistake is to specify only "powder coating." Powder coating is an application method, not a specific product. Different coatings are made of different resin types and chemistries. What is commonly referred to as 'new-generation coatings' contain resins in the category known as fluoropolymer, which include:
polyvinylidene fluoride (PVDF);
polyvinyl di-fluoride (PVF2); and
fluoroethylene vinyl ether (FEVE).
It is still necessary for specifiers to identify the desired coating type. Specifying a coating by brand name can also limit the options, as it restricts choices to whatever is offered by an individual company.
The American Architectural Manufacturers Association (AAMA) is a national trade association that establishes voluntary standards for the fenestration industry, including specification, performance requirements, and testing procedures for pigmented organic coatings on aluminum extrusions and panels. Increasing with stringency, the most commonly referenced coating standards for painted fenestration products are:
AAMA 2603, Voluntary Specification for Performance Requirements and Test Procedures for Pigmented Organic Coatings on Aluminum Extrusions and Panels;
AAMA 2604, Voluntary Specification for Performance Requirements and Test Procedures for High-performance Organic Coatings on Aluminum Extrusions and Panels; and
AAMA 2605, Voluntary Specification for Performance Requirements and Test Procedures for Superior-performing Organic Coatings on Aluminum Extrusions and Panels.
PVDF 70 percent liquid-applied resin and hyper-durable fluorocarbon powder both meet the AAMA 2605 standard.
Is there a 'best' option?
When it comes to coatings choices, the most obvious incentives may work in favor of liquid. Liquid paint costs less overall if a facility is already set up for it. Converting a facility from liquid to powder costs anywhere from several hundred thousand to a few million dollars due to the many capital upgrades required, ranging from booths and ovens to application equipment.
A common perception is the cost savings for liquid is associated with a savings in materials; liquid paint can be applied at lower film levels—about half, on average, the film thickness of powder. However, powder application may result in a more efficient use of materials. Aluminum extrusions are coated in specially designed spray booths, where over-sprayed powder can be collected, recycled, and reused. This reclaiming process can make use of nearly 95 percent of the powder coating material, resulting in a product usage more efficient than liquids. Further, the solid material costs less to ship and store for powder because liquid paints have 30 to 50 percent by volume of solvent. In actuality, the total cost for each application method is almost identical, because the stated cost for a powder coating is for a single coat but at a higher film, while the stated cost of a liquid coating is at a lower film and typically includes a primer.
Sometimes, the manufacturer drives the decision of when to use a liquid application and when to use powder. If a company typically offers its base products in a liquid finish, then the costs associated to upgrade the finish to an AAMA 2604 or AAMA 2605 may fit its process better in a liquid form. Conversely, if a manufacturer typically offers its base products in a powder-applied finish, then those costs may fit the process better in a powder form.
Deciding what application method to use largely depends on an individual project's circumstances. Questions to ask when specifying a finish include:
What is important to the client?
In what kind of environment will the finished product be?
Do gloss and fade resistance need to be considered?
What kind of durability is needed?
How long should the warranty be?
Are there criteria for the Leadership in Energy and Environmental Design (LEED) rating program or other green requirements?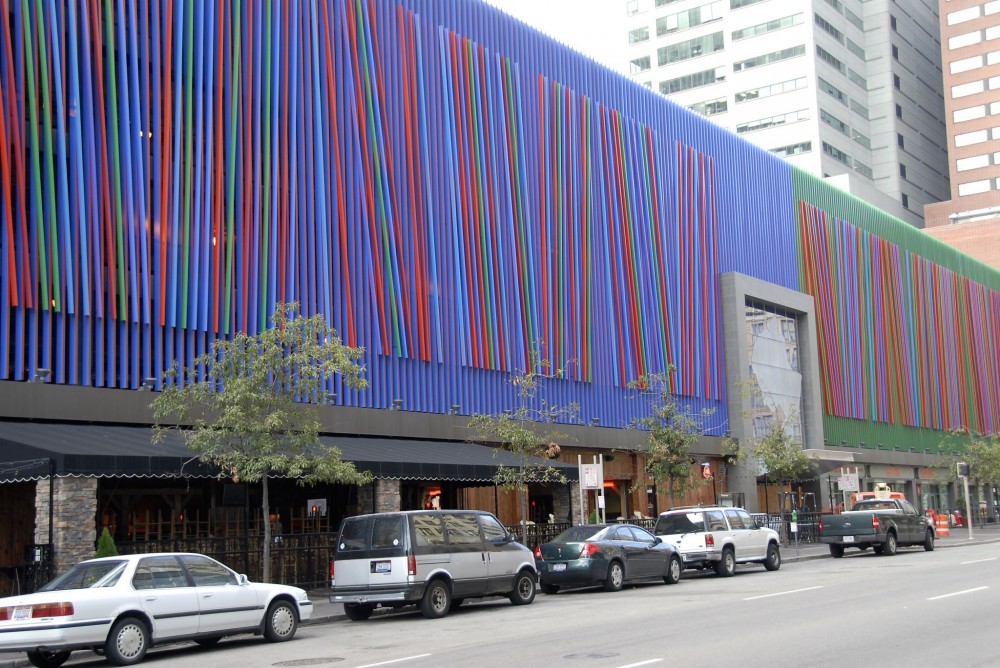 Environmental considerations
The most common assumption is using a powder coating will result in a greener building. While the application process for powder can be considered more environmentally friendly, it must be remembered no LEED points are awarded for the factory-applied finishes usually specified for architectural metals.
The shift toward using powder that has occurred in the industry so far has been primarily driven by the emphasis on sustainability and companies' desire to move away from products with VOCs. Painted extrusions must be cured by baking, and it is during the baking process the solvents—and VOCs—in liquid paint escape into the environment.
However, there has been a great deal of investment in pollution control for liquid-applied coatings. VOC-abatement systems capture more than 98 percent of VOC emissions from the liquid paint line, sending them to a regenerative thermal oxidizer (RTO), where they are destroyed. An added benefit is the heat from this process is captured and employed for curing. This helps lower the amount of carbon fuels required to cure the surface—a process that requires temperatures of 232 C (450 F). There is, however, an increase in carbon dioxide (CO2) emissions resulting from the use of carbon-based fuels to power the RTO. In the United States, net carbon dioxide emissions are slightly greater when using liquid-applied paints.
For paint to be in compliance with the AAMA 2605 standard, a pre-treatment is required; for liquid, a primer is recommended, though not always required. Aluminum surfaces must be pre-treated before liquid paint or powder coatings can be applied since neither coating adheres to untreated aluminum. The type of pre-treatment used, then, also becomes an environmental consideration.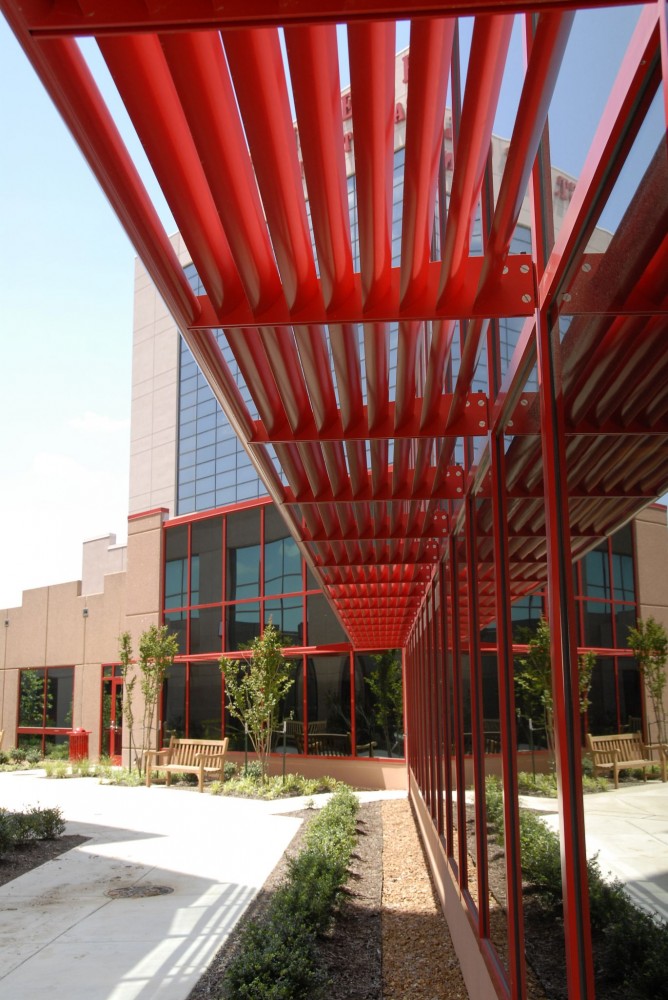 Traditionally, pre-treatment consists of a chromate (hexavalent) conversion coating. Since chrome is a heavy metal that is toxic to people and the environment, its use is highly regulated. Many manufacturers have turned to chrome-free pre-treatments that meet AAMA 2605, but have limited field performance history for PVDF in corrosive applications—their use is still under study. The AAMA Aluminum Finishing Pre-treatment Task Group is currently comparing performance of various types of pretreatment systems, both chrome-based and chromate-free. Meanwhile, paint applicators must follow hazardous waste procedures for disposal of hexavalent chromium phosphate.
Anodizing has been around a long time and offers a lower-cost solution than either liquid or powder. As it is a no-VOC process, anodizing is sometimes perceived as being environmentally responsible. Still, the amount of electricity required for the process—immersing aluminum parts in an acid electrolyte bath and electrically charging them—is typically generated by carbon fuels, which means the carbon footprint for anodizing is actually quite high.
The anodizing process is also water-intensive, using millions of gallons a year, and it involves the use of corrosive acids and chemicals that need extensive treatment before disposal. A further environmental concern is the aluminum hydroxide sludge produced. This sludge is formed during anodizing as the aluminum is removed from the extrusion's surface. The aluminum hydroxide sludge and water must be properly disposed of to avoid contaminating the environment.1
Color considerations
One benefit of liquid paint is it comes in a wide range of color choices. In the commercial architectural market, a large percentage of the finishes specified are bright mica metallic silvers and bronzes. Powdered paint does not hold metallic flake as well as liquid, so it is impossible to achieve as bright a color with powder. Further, with liquid paint, custom colors can be created by simply mixing paints in numerous individual batches at the coater's site, making it suitable for 'just-in-time' production. Powders, on the other hand, cannot be blended to create new colors. Powder coatings are nevertheless available in various bright, crisp colors and a wide range of glosses. Liquid paints offer low to medium gloss availability.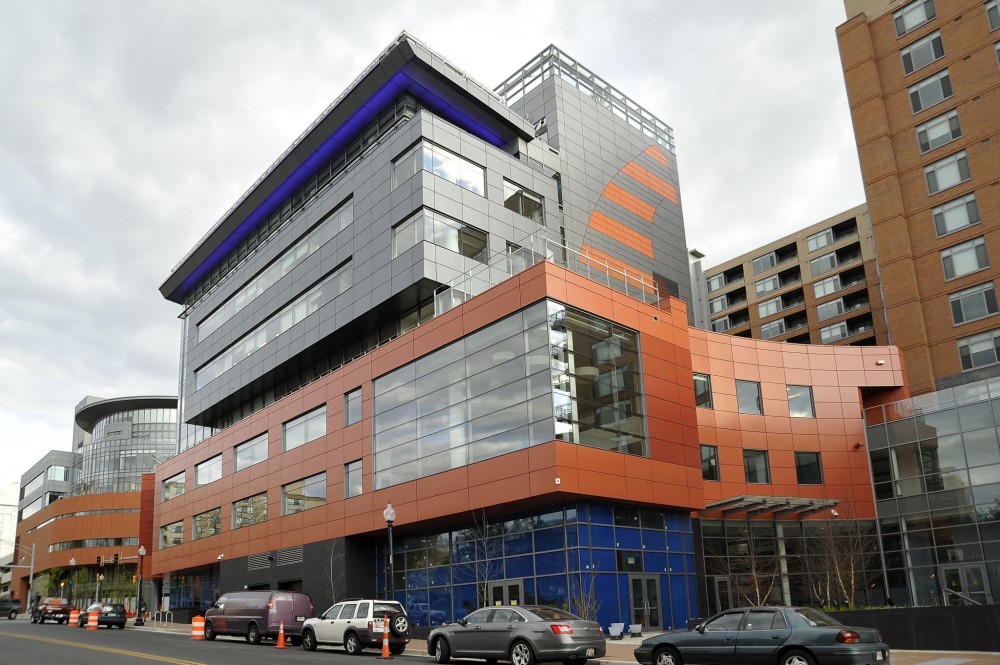 A major drawback to anodizing is that color variations in the metal itself are apparent in the finished surface. Anodized surfaces are also susceptible to chemical change and damage as the result of coming into contact with mortar. This can be a major problem on the jobsite, especially in curtain wall projects that have masonry work near them. Once an anodized surface is damaged by mortar, there is no way to repair it other than to completely replace the damaged parts.
Neither liquid nor powdered paint is susceptible to mortar damage. Scratches or other installation damage cannot be repaired on an anodized material, whereas powder-coated material can be field-repaired, though this is more difficult with powder coatings than with liquid, where touchups are common and easily done. Anodizing aluminum that has a high recycled content can result in a mottled appearance.
Using paint to cover unsightly recycled aluminum surfaces represents a significant environmental advantage, considering recycled aluminum requires only five percent of the energy needed to produce virgin aluminum. Further, aluminum does not lose strength or otherwise degrade during repeated recycling—about 80 percent of all the material ever produced is still in service2—so its reuse also confers an economic benefit. Employing color has another advantage over the natural metallic appearance inherent with anodized aluminum, as color is becoming an increasingly important part of every company's brand.
Ease of use and product performance
The fact paint can be mixed in the field results in lead times as short as a few hours. Powder lead times may become particularly long for colors not included in a manufacturer's standard offerings. Orders must be placed with the factory and additional time must be allowed for shipping.
The use of a powder coating results in reliable product offerings; the single-coat application achieves a uniform finish without runs, drips, sags, or bubbles. Finished claddings are of a superior consistency in a matchable color.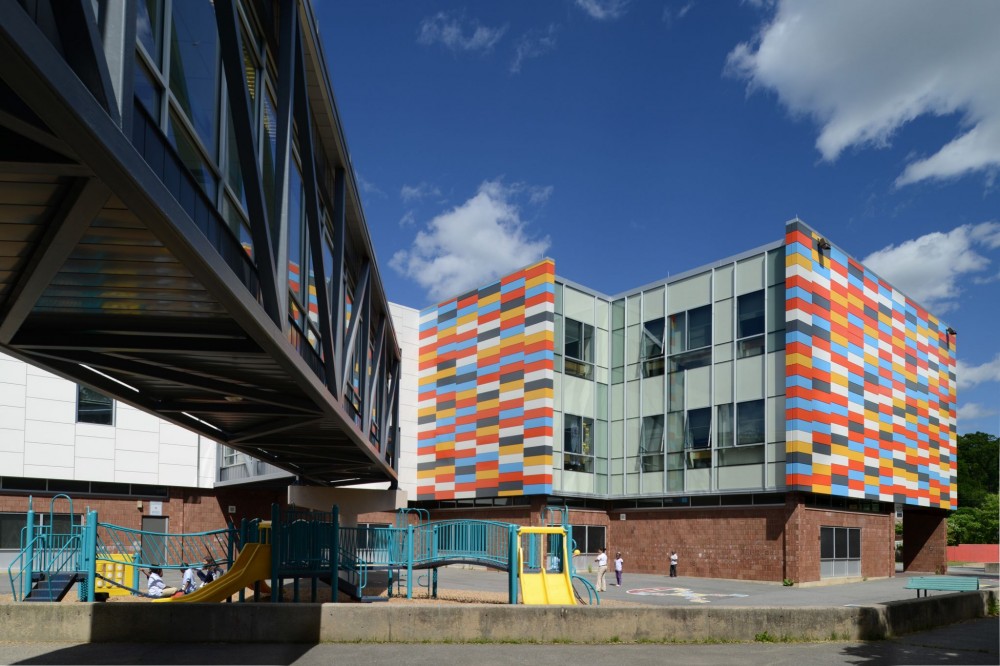 Some liquid paints can be touched up or repainted in the field—a major advantage when repairs become necessary. Liquid paints containing PVDF resin types are not as scratch- or abrasion-resistant compared to other paint systems. The percent of fluorine contained in the paint formula drives weatherability. Most fluoropolymer coatings—whether FEVE, PVDF liquid, or powder meeting the AAMA 2605 specification—carry a 20-year weathering warranty.
Conclusion
Formulas and application methods for architectural metal coatings continue to evolve. Most companies now offer both liquid and powder options with the same AAMA standards. The key, therefore, when specifying a coating, is to not jump too quickly to an assumption about which application method or brand is best. All options must be evaluated, and all costs and benefits must be weighed, based on a specific project's individual requirements.
Notes
1 Title 40 of the United States Code outlines the role of public buildings, properties, and public works. Its Section 261.31, "Hazardous Wastes from Non-specific Sources," calls wastewater treatment sludge from the chemical conversion coating of aluminum by the name, "Industry and EPA Hazardous Waste No. F019." (back to top)
2 For more, see the Aluminum Association's website, www.aluminum.org. (back to top)
Ben Mitchell, CSI, is the extrusion coatings sales and marketing manager for AkzoNobel, a global paints and coatings company and producer of specialty chemicals. He has a bachelor's degree in comprehensive science from Urbana University in Urbana, Ohio. Mitchell started at AkzoNobel in 1990 as a lab chemist formulating (PVDF) coatings, and from there moved into product management. He can be contacted at ben.mitchell@azkonobel.com.