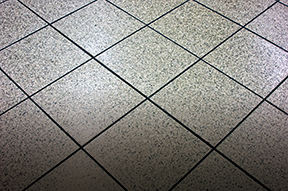 by Jesus Moralez, PhD
Manufacturers and suppliers in the flooring industry are responding to the call for more environmentally responsible products for non-residential applications. While raw material suppliers study the science of sustainable plasticizers, manufacturers have capitalized on new emerging technologies to develop products offering increased design flexibility, but reduced ecological impact.
Luxury vinyl tile (LVT) and luxury vinyl plank (LVP) are fast-growing trends in the flooring industry. Unlike the vinyl floors seen in kitchens of previous decades, these new high-performance products are, in part, the result of improved science and technology in vinyl and plasticizers. Other flooring categories—such as polyvinyl chloride (PVC)-backed carpets, resilient flooring, and carpet tiles—have also benefitted from improved chemistry and better manufacturing formulations. In addition to improved indoor air quality (IAQ) performance, LVTs and LVPs offer low maintenance needs, decreased lifecycle costs, and ease of installation. LVT and LVP differ from traditional vinyl and vinyl composition tile in various ways, namely in the materials used and composition of each.
LVT is growing exponentially across various commercial segments, including healthcare, retail, corporate, education, and hospitality. St. Louis-based interior designer, Chelsea Madden of Design Extra Studio, reports vinyl tiles have had a very significant impact on the firm's projects.
A specialist in senior living facilities, Madden frequently specifies LVTs and LVPs for their low maintenance, aesthetics, and cost-effectiveness compared to traditional tile, which must be sealed after installation. Further, with LVTs and LVPs, replacements can be made for a few tiles or planks, rather than an entire flooring assembly, which results in significant cost savings. Additionally, luxury vinyl flooring has additional cushioning for less impact and a softer feel, as well as acoustic features to absorb more noise compared to tile, wood, and laminate.
LVT/LVP is a high-impact solution for areas such as entryways, kitchens, or flooring for retail stores because of its ability to stand up to heavy traffic, regular wear, and sunlight. It is also ideal for bathrooms because of its resistance to moisture and mildew. There are various installation options for luxury vinyl flooring, including tape, floating, click-and-locking, and glue-down systems, along with spray adhesives. The appropriate type of installation should be determined based on the environment the product is being installed in.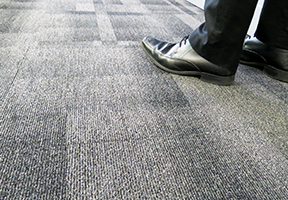 The manufacturing process
To understand how far the flooring industry has progressed in developing more environmentally responsible products, it is helpful to look at the manufacturing process. For many years, the industry relied on phthalates, esters of phthalic acid, to make plasticizers—substances added to plastics to increase flexibility, transparency, durability, and longevity.
For plastics such as PVC, the more plasticizer added, the more flexible and durable it becomes. Plasticizers make it possible to achieve improved compound processing characteristics, while also providing flexibility in the end-use product. Scientists must evaluate ester plasticizers for compatibility, processibility, permanence, and other performance properties. There are various ester chemistries for numerous applications, including:
?tubing and hose products;
?flooring;
?wallcoverings;
?seals and gaskets;
?belts;
?wire and cable;
?medical equipment and supplies; and
?print rolls.
There is no alternative to plasticizers—and without their use in these products, the materials would be rigid and lose all flexibility.
Phthalates under fire
Phthalates have been used in plastics since the 1930s, but concerns have been raised recently. Some believe there is strong evidence linking phthalates to reproductive defects and early onset of puberty. This issue has been raised because phthalates are used to soften plastics in the manufacture of toys. In 2005, the European Parliament imposed a permanent ban on six phthalates used in plastic toys and childcare items. The ban on two of the phthalates was reviewed in 2013 and confirmed for items than can be mouthed by children aged three and under.
In October 2007, California became the first state to pass a bill banning certain phthalates from some toys and other items. In 2008, the U.S. Consumer Products Safety Commission (CPSC) passed the Consumer Products Safety Improvement Act, which implemented a ban, similar to the one in Europe, on three phthalates and a temporary ban on another three phthalates, covering the same substances as the European ban. The U.S. Food and Drug Administration (FDA), however, says it has found no compelling evidence to suggest phthalates pose a safety risk. Although this ban does not directly impact the flooring industry, building owners are becoming more aware and conscious of what chemicals are in the products they use and how these products are made.
Non-phthalates flooring solutions
While the controversy continues about the use of phthalates, the flooring industry is a step ahead. Many of its suppliers used their own discretion and began making changes, developing non-phthalate plasticizers to serve the industry's needs. Non-phthalate plasticizers were introduced more than three decades ago, and are still in use today with performance equal to phthalate plasticizers (Figure 1).
Figure 1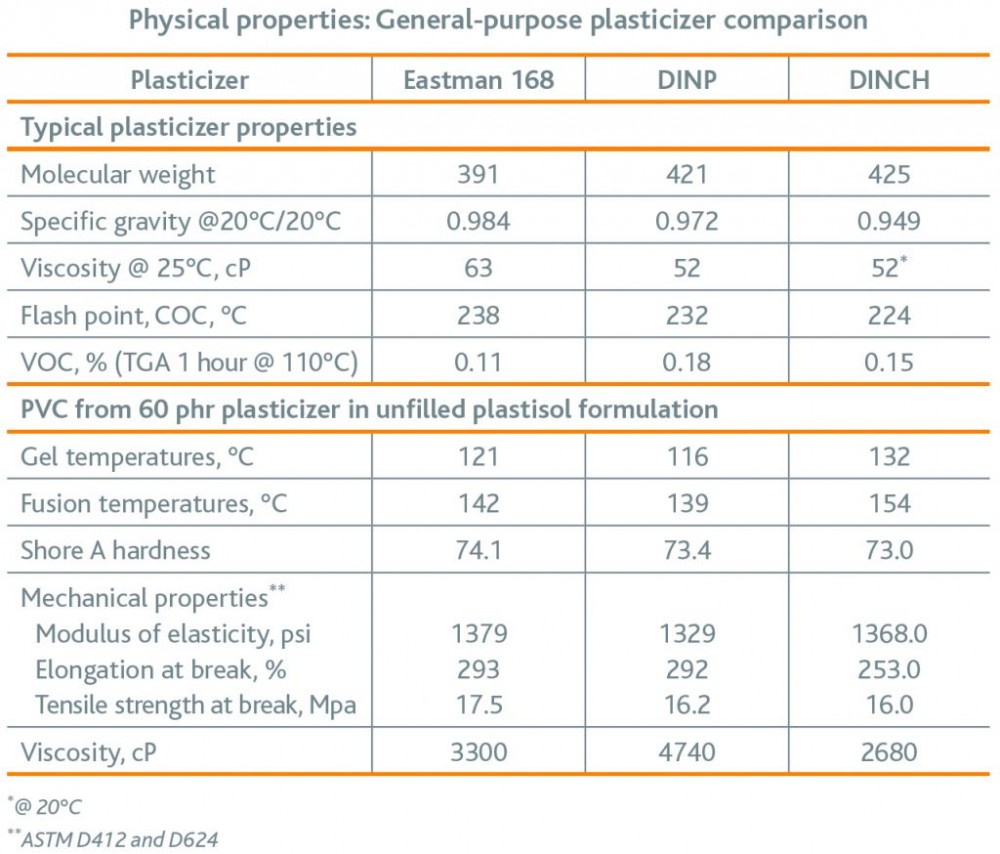 Characteristics of most current non-phthalate plasticizers include low-temperature flexibility, resistance to extraction by soapy water, and non-migration properties (Figure 2). Raw material suppliers continue to develop new specialized non-phthalate plasticizers for niche applications. These include products formulated to work with water-based adhesive applications and fast-fusing solutions to help-speed production times.
Figure 2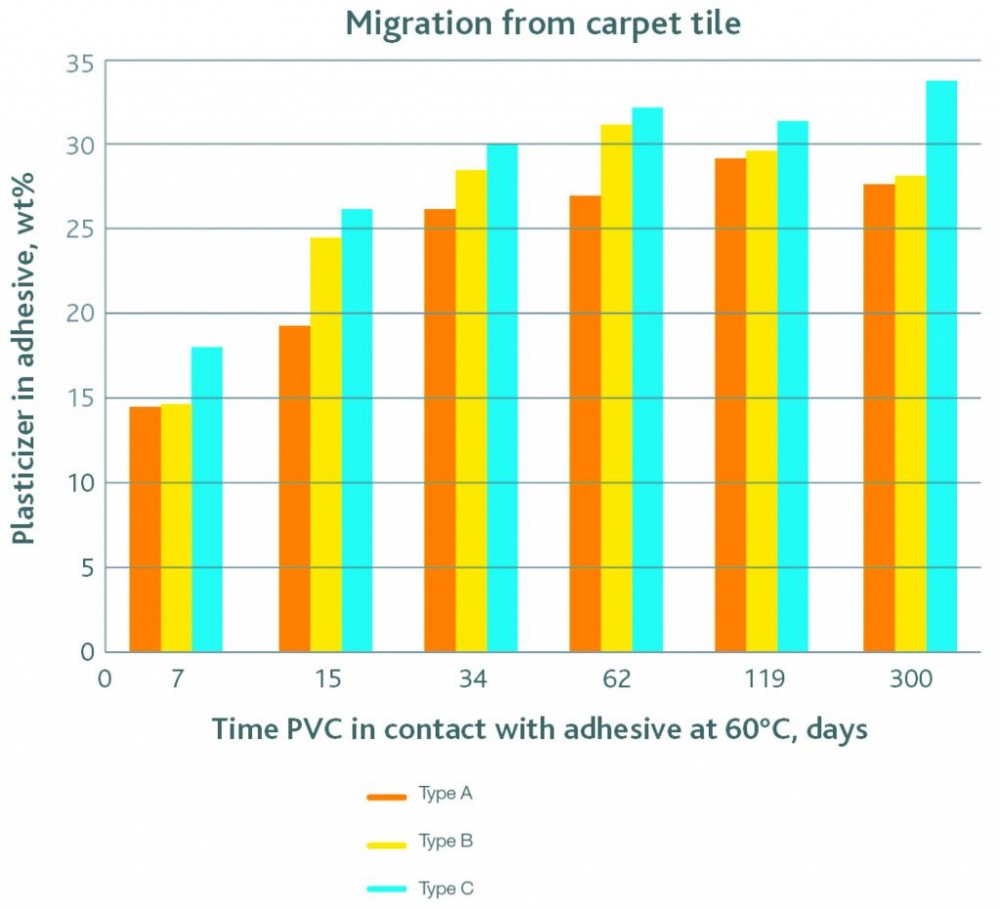 In some cases, based on the application and formulation, non-phthalate plasticizers are seen as more efficient, allowing the manufacturers to use less in their products.
Self-regulation in the industry
The move toward self-regulation by changing raw materials before they are listed has helped the industry stay ahead of regulatory actions such as California's Proposition 65, which requires labeling of products.
Major retailers are encouraging vendors to reformulate products toward less toxic and more sustainable profiles, ahead of government mandates. Architects and design professionals have also contributed to this trend, frequently specifying new products over traditional ones that may have greater environmental impacts. Recently, a new sustainability standard was released for resilient floorcoverings, including vinyl flooring products. American National Standards Institute/National Sanitation Foundation (ANSI/NSF) 332, Sustainability Assessment for Resilient Floor Coverings, was developed to promote sustainability practices in the manufacture of resilient flooring and also bring more transparency and clarity to manufacturing processes. This standard is now being used by manufacturers to certify the sustainable attributes of resilient flooring.
The standard was developed by NSF, the non-profit, non-governmental organization accredited by ANSI, and is a third-party independent accreditation that can be used to make informed specifying or purchasing decisions.
Flooring manufacturers have also been early adopters of environmental product declarations (EPDs) and lifecycle assessments (LCAs), aiming to show the environmental profiles of their products in a standard form so informed purchasing decisions can be made and specifications can be written.
As United States and European markets for flooring products continue to expand, either through acquisition, current plant expansion, or with the construction of new facilities, numerous companies have increased their U.S. footprint in the last few years. This means designers and specifiers will have numerous options, and can have an opportunity to use locally sourced products.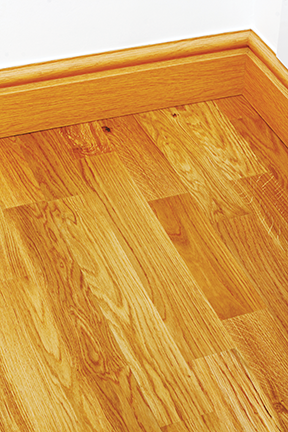 Supply chain readiness
The trend toward sustainable flooring signals industry growth in the vinyl tile category, as specifiers and designers seek the material's aesthetics and sustainable materials contributing to improved indoor air quality (IAQ) and occupant safety.
Some flooring manufacturers are taking steps to ensure the ability to capitalize on market growth. For example, by ensuring the switches of plasticizers on the production line are seamless, manufacturers are able to avoid surprises on the line—not all plasticizers are interchangeable. Manufacturers are seeking suppliers employing experienced technical support people with a have background in changing a plasticizer formula without downtime.
As mentioned, some flooring manufacturers have already announced plans to bring their manufacturing capacity back to the United States from Asia. This trend points to anticipated growth in the market. By securing the supply chain and using local suppliers, manufacturers prevent burdensome customs disruptions, tainted product, or shipping expenses.
The advantages of working with companies that can produce large volumes of materials are highly considered. Some companies make their own chemicals and are able to offer a more stable supply of product.
Manufacturers are looking for plasticizer products that enable faster processing. In the coming years, there will be a need to produce more flooring faster. New products can help manufacturers run at profitable production speeds and faster cycles times, as well as provide uniform thickness.
Conclusion
New flooring options such as luxury vinyl tiles and planks can benefit all those in the industry. Consumers can enjoy clean indoor air quality, designers have more flooring choices and options unheard of just a decade ago, and raw materials suppliers have found ways to make products that provide a healthy working environment without sacrificing performance and aesthetics. The combination of these factors creates an optimistic economic outlook for the industry.
Jesus Moralez, PhD, currently serves as market development manager for Eastman Chemical's Plasticizer Business Unit, where his responsibilities include leading several projects focused on new products and markets. Prior to joining Eastman, Moralez worked for DuPont, and was previously at the National Institute for Nanotechnology in Canada. Moralez is a graduate of Purdue University, where received a bachelor's degree in chemistry and a PhD in organic chemistry. He can be contacted by e-mail at jmoralez@eastman.com.