Visitors, patients, and staff traveling to three hospitals in St. Louis, Missouri, now have an easier trek thanks to the completion of a 366-m (1200-ft) long elevated pedestrian skywalk in March. Intended to enhance both connectivity and safety, the skywalk links various parking garages (totaling 6000 parking spaces) to the 16-block medical campus as part of a renewal project.
The skywalk project is the result of a joint venture between KAI Design & Build and Paric Corporation. KAI led construction and provided architectural design, working with Paric to manage a project team including Power UP Electrical Contractors (which provided design/build electrical services) and Square UP Builders (which provided rough and finish carpentry), as well as various stakeholders and owners (such as the Washington University School of Medicine, MetroLink, and the City of St. Louis).
"Clear and regular communication with all of the entities was key to the success of the project. Covering roughly 3 ha (7 acres) of prime real estate on the eastern side of the largest medical campus in St. Louis, logistics were of the utmost importance," said Jeremy Lammers, KAI's senior project manager. "Daily communication with the building managers of several adjacent structures was key each and every day. Our crews had to not only avoid traffic congestion in the area as much as possible, but also work safely amongst the many people walking along the streets to get to the campus for work or school. It was quite a challenging project logistically, but the team did an outstanding job."
This success is demonstrated in part by the project team's safety record—with only two recordable accidents across its 264 days—and diversity, with 75 percent minority business enterprise (MBE) participation.
KAI also worked with Clayco on Washington University School of Medicine's Mid-Campus Center, which opened in December and serves as the end point of the new walkway. Running east to west, the path begins at the St. Louis Children's Hospital staff garage, connecting to a garage for BJC Healthcare before the Mid-Campus Center and nearby BJC Institute of Health and Hope Plaza.
Adjacent structures include:
BJC's Duncan Central Garage (3022 spaces);
Metro Parking Garage (700 spaces);
a 19,788-m2 (213,000-sf) College of Pharmacy academic building, still under construction; and
Eric P. Newman Education Center.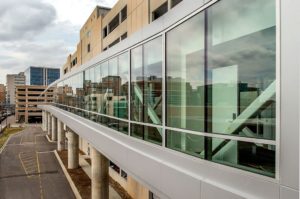 KAI/Paric also collaborated on one of these buildings, the Duncan Central Garage, in 2015.
The connector, which is designed to be resilient against pedestrian traffic and environmental effects, is 4 m (13 ft) wide and sits 12 m (40 ft) above street level. Its mechanical system consists of a four-pipe hot and cold water system, which feeds fan-coil units with above-ceiling air handlers.
"What we built was a controlled environment that provides a safe way to get from point A to point B," said Lammers. "It is a conditioned space so that in the summer, you are going to be cool, and in the winter, you are going to be warm. In the rain, you are going to be dry. The connector provides a new way to get to work or class safely and comfortably."
The project also ensures comfort in another way, providing safety features such as emergency exits and security intercoms (marked with blue lights at all garage and building connections), as well as light-emitting diode (LED) ceiling tiles. Lighting is also installed beneath the bridge every 6 m (20 ft), to eliminate the shadow the connector casts below. Field carpet tiles serve as flooring.
These interior aspects could only be completed after the connector was enclosed. Its exterior features more than 500 sections of low-emissivity (low-e) glass panels and a white, mechanically fastened thermoplastic polyolefin (TPO) roof.
This extensive project required a great amount of materials, including:
380 tons of steel, incorporated as prefabricated truss sections; and
1911 m3 (2500 cy) of concrete, spanning 14 piers.
A video of the project can be viewed above.