Washington arts hub to celebrate regional history through local material use
by arslan_ahmed | May 9, 2023 9:39 am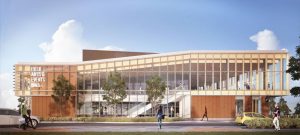 Currently under construction, the Field Arts & Events Hall in Port Angeles, Washington, embraces the region's timber history with the use of wood and natural materials throughout the 3,809-m2 (41,000-sf) building.
The project is the first performing arts and community space to be built in the new waterfront development and is scheduled to be completed in July 2023. The new cultural center aspires to strengthen the creative community while embracing the natural beauty of the region.
Designed by the architect, LMN Architects, Port Angeles' history and ecosystem is celebrated in the aesthetics of the building, giving users a chance to engage with the town's unique culture and geography.
Visitors arrive at a street level urban entry and progress up a feature stair to see panoramic views of the Olympic Mountains and Strait of Juan de Fuca. A curtain wall constructed of regionally sourced timber mullions offers 270-degree wrap-around views in the multi-level lobby and conference space. The wooden lobby ceiling gives warmth to the public spaces with integrated lighting that mimics sunlight reflecting off the water. Other major construction materials being used in the building are high-pressure laminate panels, precast concrete, and fiber cement panels.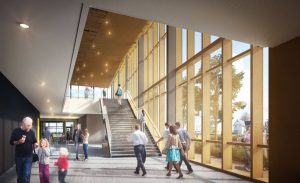 The building will feature a 500-seat multi-purpose performance hall designed to accommodate orchestral music, dance, dramatic theater, and amplified music events and festivals.
The intimate, multipurpose auditorium has been designed with a level of flexibility that optimizes a wide range of artistic performances reflective of local and regional arts groups. A second-level conference center with sweeping views of the Strait of Juan de Fuca creates an event destination unique to Port Angeles and the North Peninsula with 300 seat banquet capacity. Dressing rooms and other performance related spaces, a catering kitchen, and administrative suite support the operations of the building. An art gallery, conference center, and coffee shop complement the performance space and welcome visitors for a variety of activities throughout the day.
Other collaborators on the project are:
Acoustical consultant, Jaffe Holden; civil engineer, Zenovic & Associates; MEP engineer, Stantec; envelope consultant, Morrison Hershfield; general contractor, Mortenson; landscape architect, Walker Macy; lighting designer, FMS; structural engineer, Swenson Say Faget; and theater/AV consultant, The Shalleck Collaborative.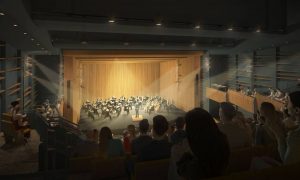 "Positioned in a unique location in Port Angeles where you can experience the water and the mountains, the Field Arts & Events Hall is designed to be reflective of its surroundings. Regional wood materials are utilized throughout the building, and glass has been strategically integrated in the design to open the building to the community and the nature around the site. As we continue to experience the building taking shape, it is exciting to envision how the project reaffirms the important role of community, art, music, and theater in Port Angeles," says Cameron Irwin, LMN Architects's principal.
Endnotes:
[Image]: https://www.constructionspecifier.com/wp-content/uploads/2023/05/AA_FieldArtsHall_1.jpg
[Image]: https://www.constructionspecifier.com/wp-content/uploads/2023/05/AA_FieldArtsHall_2.jpg
[Image]: https://www.constructionspecifier.com/wp-content/uploads/2023/05/AA_FieldArtsHall_3.jpg
Source URL: https://www.constructionspecifier.com/washington-arts-hub-to-celebrate-regional-history-through-local-material-use/
---