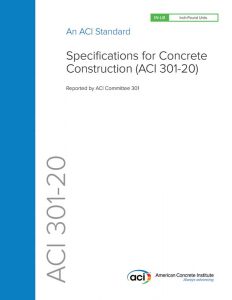 An overview and notable changes to ACI 301-20 are provided in the following sections.
Section 1—General Requirements
Section 1 covers general requirements pertaining to the specification; outlines work not specified; defines terms unique to the specification; and references four additional ACI standards, 138 ASTM standards, and 24 other industry documents. The referenced standards provide requirements for the tolerances, materials, and test methods cited in ACI 301-20. As part of the optional requirements in Section 1, specifiers must indicate any additional testing and inspection services, or if the sampling is desired at locations other than point of delivery, if they are applicable.
Notable changes to Section 1 include new definitions for clarity. Definitions of specialty concrete applications covered in separate sections were removed. Specifiers need to refer to specialty sections and designate portions of the work meeting specific types of specialty concrete.
Optional requirements in Section 1 now include a preconstruction conference to review the project requirements, acceptance criteria, and responsibilities of each party, when specified.
Shotcrete is now included in the scope of 301-20. Specifiers must designate the portion of work to be constructed with shotcrete and specify the requirements based on ACI 506.2, Specification for Shotcrete, and ACI 318-19.
Section 2—Formwork and Formwork Accessories
Section 2 covers requirements for design and construction of formwork. Specifiers must indicate locations of required movement joints and waterstops, along with areas where walls require form ties with a positive water barrier, and where coated or corrosion-resistant ties are required.
ACI 301-20 provides an optional requirement that the contractor must use a licensed design engineer (LDE) for formwork design if specified in contract documents or mandated by jurisdiction where work will be performed. Tolerances for formwork are provided in ACI 117, Specification for Tolerances for Concrete Construction and Materials and Commentary.
No major changes were made to Section 2 in 301-20.
Section 3—Reinforcement and Reinforcement Supports
Section 3 covers materials, fabrication, placement, and tolerances for steel reinforcement and reinforcement supports. Specifiers must indicate locations where field bending or straightening of reinforcing bars is permitted.
Tolerances for reinforcement are provided in ACI 117-10. Specifiers must include the location and the tolerance for placement of welded wire reinforcement. Some projects have experienced problems during placement of the reinforcing bars because of congestion associated with embedments, openings, and other items. ACI 301-20 requires that if reinforcement must be located outside of placing tolerances, the A/E must be contacted for approval.
Notable changes to Section 3 include zinc-coated (galvanized) reinforcing bars for structures designed in accordance with ACI 318-19 must conform to ASTM A767/A767M, Standard Specification for Zinc-coated (Galvanized) Steel Bars for Concrete Reinforcement. However, zinc-coated (galvanized) reinforcement conforming to ASTM A1094/A1094M, Standard Specification for Continuous Hot-dip Galvanized Steel Bars for Concrete Reinforcement, may now be specified for applications where a lesser zinc coating thickness is permitted.
Section 4—Concrete Mixtures
Section 4 covers requirements for materials, mixture proportioning, production, and delivery of concrete. The A/E must indicate the specified compressive strength of concrete, f'c, and must designate exposure classes or specify requirements for portions of the structure to ensure durability. Specifiers should also include any proposed ranges of mixture proportions and changes in required or prohibited concrete materials.
Notable changes to Section 4 include separating requirements for slump flow of self-consolidating concrete (SCC) from slump requirements for other concrete mixtures. Performance and design requirements for slump stipulate a target slump not exceeding 9 in. (unless the specifier selects an alternative limit). Determination of slump is to be in accordance with ASTM C143, Standard Test Method for Slump of Hydraulic-cement Concrete, with slump tolerances in accordance with ACI 117. Target slump flows for SCC, determined in accordance with ASTM C1611, Standard Test Method for Slump Flow of Self-consolidating Concrete, at the point of delivery are not to exceed 30 in. (unless the specifier selects an alternative limit) and shall be used as a basis for acceptance. Slump flow tolerances are provided in ASTM C94, Standard Specification for Ready-mixed Concrete. Also, as a new optional requirement, if specified, passing ability (the relative filling ability around obstructions and through constrictions, such as congested reinforcement or narrow formwork) and static segregation (the separation of cement paste and coarse aggregate when the concrete is at rest) should also be evaluated in accordance with ASTM C1621, Standard Test Method for Passing Ability of Self-consolidating Concrete by J-Ring, and ASTM C1610, Standard Test Method for Static Segregation of Self-consolidating Concrete Using Column Technique, respectively.
A prescriptive table listing minimum cementitious material requirements for floors, which appeared in previous versions of ACI 301, was removed in ACI 301-20, providing more flexibility in designing concrete mixtures.