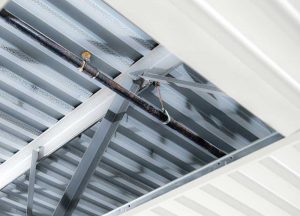 Aesthetics
Some penetrating sprinklers are fully exposed beneath a ceiling. Where this is not visually acceptable, specifiers can call for semi-exposed (recessed) sprinkler heads, or concealed heads. Concealed sprinklers have a cover plate that will drop-out when exposed to heat from a fire. The wide-spread acceptance of drop-out sprinkler covers should inspire confidence in the viability of drop-out ceilings that function according to similar principles.
While concealed sprinkler covers are nearly flush to bottom of ceiling surface and can have a color similar to the ceiling, they are not truly concealed; they can be seen from below when viewed at typical ceiling heights and lighting. The cover and ceiling texture can vary, and covers can be especially visible if care is not taken to center sprinklers in panels and install them at uniform intervals. The covers add to the visual clutter of air diffusers, light fixtures, sensors, public address speakers, and other services that detract from the appearance of a ceiling.
Keeping sprinklers completely above drop-out ceilings eliminates sprinklers as an aesthetic concern.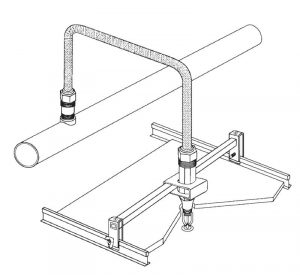 Luminous Ceilings
NFPA's definition of drop-out ceilings incudes the possibility of using translucent materials. This is not coincidental, as the history of drop-out ceilings began with the search for better luminous ceilings. These ceilings were a signature of many midcentury modern buildings, made possible by the growing affordability at the time of fluorescent lamps and lightweight translucent thermoplastics. When architects objected to the shadows penetrating sprinklers cast on the pristine light-emitting surfaces, engineers determined how thermoplastic panels could be installed beneath sprinklers, and the drop-out ceiling was invented.
There has been a resurgence of interest in luminous ceilings, sparked in part by the proliferation of light-emitting diode (LED) lighting solutions. At the Bavaria Downs banquet center in Chaska, Minnesota, for example, red, green, and blue plus white (RGB+W) LEDs are digitally controlled to change the color and appearance of the back-lit ceiling. Sprinklers remain out of sight, above the LED strips and do not cast shadows onto the ceiling.
Room-within-room
There are many occasions when a 'roof' must be put over a space that is within a sprinklered building. Examples include:
∞ A big-box store or shopping center that uses a store-within-store concept to create a boutique with a lowered ceiling and a more intimate ambience (Figure 3).
∞ An office or lab on a factory floor that needs to be enclosed to control dust, temperature, or other environmental factors.
∞ A meeting room within an open office that needs a covering for increased privacy, better illumination, or to create a better sense of place.
∞ A canopy over a display within a convention center, gallery, or museum (Figure 4).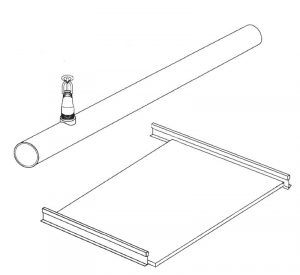 A drop-out ceiling avoids the need to install separate sprinklers within the enclosed space. Light-transmitting panels also permit the use of borrowed light from overhead luminaires.
Soffits and ceiling clouds
Like a room-within-room scenario, drop-out ceilings can eliminate the need to install sprinklers both above and below the ceiling, and can also be used for creative lighting.
Data farms
Clear drop-out ceilings are frequently used in computer server facilities to create energy-saving cold-aisle or hot-aisle ventilation systems. The ceilings are installed between rows of computer racks so the aisles can be used as air supply or exhaust ducts (Figure 5).