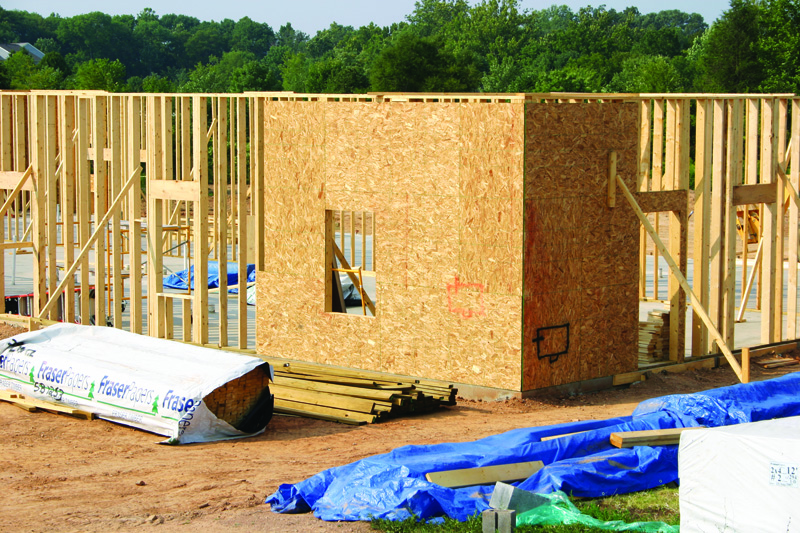 AWC resources
To aid building designers and construction professionals in addressing the challenges associated with high wind, the American Wood Council (AWC) has developed several code-referenced design standards for wood construction for a variety of building types. (For more information on these resources, visit awc.org/codes-standards/publications. Also, see Showalter's four-part series of web articles on The Construction Specifier site, beginning with "What the 2015 International Building Code means for wood construction.")
NDS
The 2015 National Design Specification for Wood Construction (NDS) includes necessary design procedures and design value adjustment factors for:
solid-sawn lumber;
structural glued-laminated timber (glulam);
timber poles and piles;
prefabricated wood I-joists;
structural composite lumber (SCL);
wood structural panels;
cross-laminated timber (CLT); and
connections to resist lateral and gravity loads.
Per the 2015 NDS, all members must be framed, anchored, tied, and braced to meet required strength and rigidity. The design values for wood studs and the beam and column buckling formulas used to design studs for axial and lateral loads are incorporated in the NDS.
SDPWS
The 2015 Special Design Provisions for Wind and Seismic (SDPWS) provides specific design procedures for wood members, fasteners, and assemblies to resist wind and seismic forces. In addition to shear wall and diaphragm design, SDPWS offers design criteria for members and connections subject to out-of-plane wind loads. One very specific provision pertinent to tall wall design is the wall stud bending strength and stiffness design value increase, where reference bending and bending stiffness values are permitted to be increased based on the presence of exterior wood structural panel sheathing and interior gypsum wallboard with specific attachment requirements.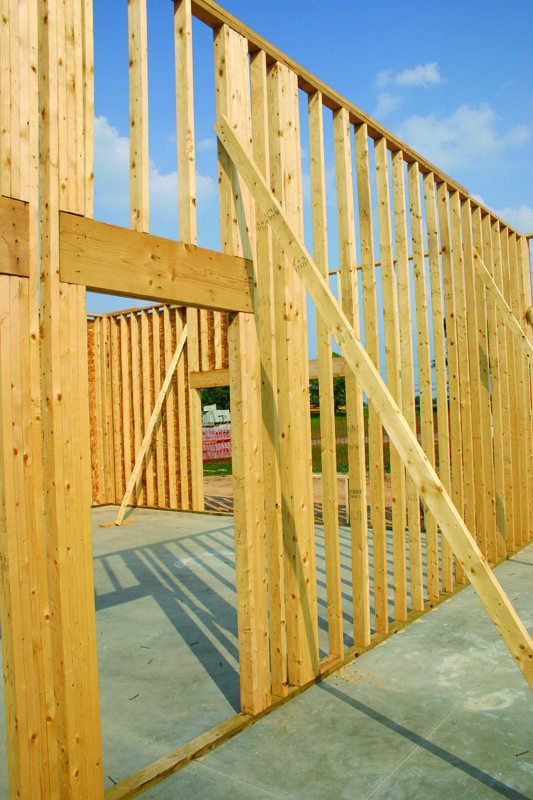 WFCM
The 2015 Wood Frame Construction Manual (WFCM) is another AWC standard integral to wood design, providing engineered and prescriptive design requirements for one- and two-family dwellings. However, it also serves as a useful tool in the design of nonresidential buildings in Risk Category I or II that fit within the WFCM scope of building size and assigned loads. Examples include projects where the bottom floor is used for stores, offices, and restaurants.
For buildings within its scope, WFCM contains both engineered and prescriptive solutions for wind, seismic, and gravity loads. The engineered provisions in WFCM Chapter 2 offer, for example, tabulated wind loads and gravity loads based on assumptions from ASCE 7 provisions.
Prescriptive wood solutions in Chapter 3 tabulate both loadbearing and non-loadbearing stud lengths for common lumber species resisting wind loads for various deflection limits and sheathing types. For the prescriptive solutions in WFCM Chapter 3, loadbearing walls are limited to a maximum of 3 m (10 ft), while non-loadbearing walls can be 6 m (20 ft) tall.
In Chapter 2, WFCM permits loadbearing studs up to 6 m (20 ft) tall. For C&C wind pressures, the localized bending stresses are computed independent of axial stresses. For MWFRS pressures, bending stresses in combination with axial stresses from wind and gravity loads are analyzed. For buildings limited to the conditions in WFCM, the C&C loads control the stud design. A comprehensive commentary provides all the background assumptions and example solutions for the tabulated values.
High wind guides
Additionally, AWC has created a series of Guides to Wood Construction in High Wind Areas for 185-, 195-, 210-, 225-, 240-, and 260-km/h (115-, 120-, 130-, 140-, 150-, and 160-mph) wind zones based on provisions in the 2015 WFCM. The guides establish a specific set of prescriptive, wind-resistive structural requirements for wood-frame buildings in compliance with the 2015 International Building Code (IBC) and International Residential Code (IRC). As simplified solutions to the 2015 WFCM, a few of the specific considerations for wall wind-resistive design addressed in the guides include exterior walls fully sheathed with wood structural panels, and flexible finish materials and No. 2- or stud-grade lumber (including Douglas fir-larch, hem fir, southern pine, and spruce-pine-fir).