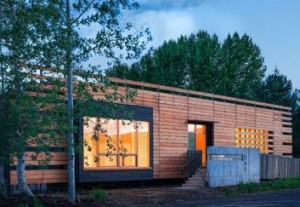 In January, WoodWorks announced the winners of its 2015 Design Awards at the Bay Area Wood Solutions Fair in Oakland, California.
National awards went out in nine categories:
Jury's Choice: Live Oak Bank Headquarters (Wilmington, North Carolina) and the architectural/engineering/contracting team of LS3P Associates Ltd., Woods Engineering, and Clancy & Theys Construction;
Institutional: Jackson Hole Airport (Jackson, Wyoming) and the team of Gensler, Martin/Martin, and Wadman Corp.;
Educational: Indian Mountain Student Arts and Innovation Center (Lakeville, Connecticut) and the team of Flansburgh Architects, Roome & Guarracino, and United Construction & Engineering;
Beauty of Wood: Stapleton Library (Staten Island, New York) and the team of Andrew Berman Architect, Gilsanz, and Plaza Construction;
Multi-story: N-Habit Belltown (Seattle, Washington) and the team of Bushnaq Studio Architecture + Design, DCI Engineers, and Charter Construction;
Government Buildings: Mojave Rivers Ranger Station (Acton, California) and the team of Marcy Wong Donn Logan Architects, Gregory P. Luth & Associates, and Swinerton Builders;
Green: Reveley Classroom Building at the University of Idaho (Mascow) and the team of Patano Studio Architecture, DCI Engineers, and Quality Contractors;
Commercial?Industrial: Sauter Timber Production Facility (Rockwood, Tennesse) and the team of Sauter Timber LLC, Grossman Bau GmbH, and Botkin Construction; and
Commercial–Office: Venture Capital Office Headquarters (Menlo Park, California) and the team of Paul Murdoch Architects, Simpson Gumpertz & Heger, and Louis Ptak Construction.
"The Wood Design Awards are an opportunity to recognize extraordinary buildings that exemplify, not only wood's beauty, but the versatility and structural performance attributes that make it such an interesting material to architects and engineers," said Jennifer Cover, PE, executive director of WoodWorks. "Collectively, this year's award-winning projects celebrate the kind of innovative thinking that continues to expand the possibilities for wood use—and bring wood's cost, sustainability, and other advantages to a wider range of projects."
For more on the winners, visit www.woodworks.org/project-gallery.