The structure of the Children's Museum of Eau Claire (CMEC), being built in Wisconsin, utilizes responsibly sourced mass timber, with round-timber columns, joist and girder trusses replacing conventional steel and concrete, resulting in carbon sequestration worth more than 158,757 kg (350,000 lb).
This innovative usage demonstrates the multi-story potential of structural round timber (SRT), the original–and perhaps the most sustainable and biophilic–mass timber product on the market.
Designed by internationally recognized architecture firm Steinberg Hart, the 2230 m2 (24,000 sf) museum features a loft-like interior space where round-timber columns act as an armature for hands-on exhibits and interactive technology. Together with KPFF, one of the nation's leading timber engineering firms, forest products companies and fabricators, the design team created a carbon-neutral museum for children of all ages.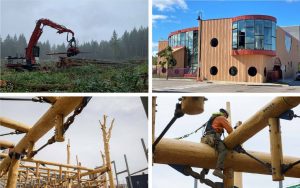 Central to the museum's design is the shared vision for sustainability of three key team members: Michael McHorney, the executive director of the Children's Museum of Eau Claire; Steinberg Hart partner and lead architect Malcolm Holzman; and WholeTrees Structures CEO Amelia Baxter.
"Working with WholeTrees and their partners is helping us deliver on a key goal of this project, to reduce the carbon footprint for construction," shares McHorney. "As a result, the Children's Museum of Eau Claire has sequestered more than 158,757 kgs (350,000 lbs) of CO2 equivalent in the timber structural system."
The story of the timber sourcing for this project is as innovative as the museum itself. Madison-based WholeTrees Structures brought to the project Port Blakely, a Pacific Northwest, family-owned renewable forest products company. The company provided Douglas fir logs with verifiable traceability from the company's single-origin Sustainable Forestry Initiative (SFI)-certified forests. Seven Islands Land Company, who manages 331842 ha (820,000 acres) of SFI and FSC certified timberland owned by the Pingree Family in northern and western Maine, provided the 9.1 m (30 ft) structural maple columns for the project.
"The Port Blakely origin story is a perfect fit for WholeTrees," says Baxter. "We work with architects and builders who are looking for products that are not only high functioning, but also have a strong sustainability story to tell in and of themselves. Now the Children's Museum demonstrates how visually stunning carbon-smart design and construction can be."