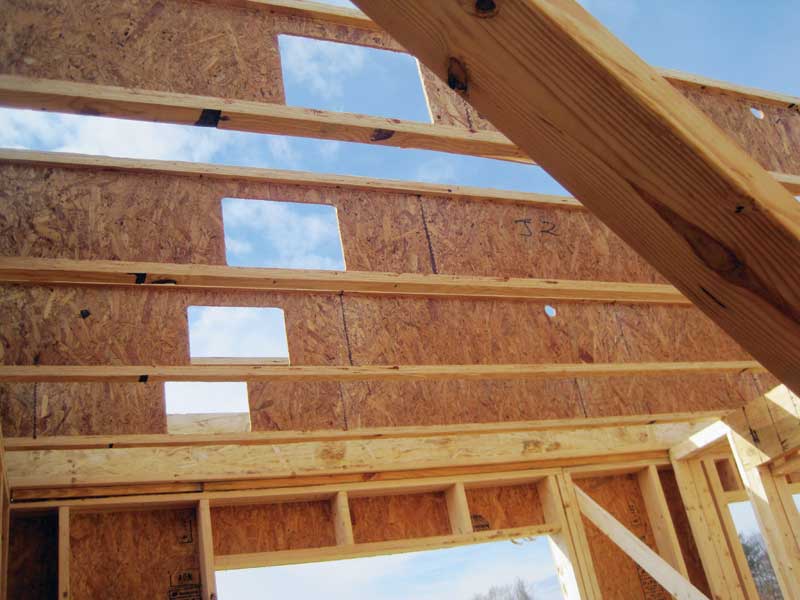 by Jeremy Dummer
From a single-family home to a 40-story office building, all structures are made up of a complex array of systems competing for limited space. Nowhere is this more pronounced than in floor assemblies where HVAC ducts, recessed light fixtures, and plumbing are interwoven with joists and beams.
Without carefully integrated planning of both structural and mechanical systems, conflicts can arise on the jobsite. To avoid costly and time-consuming rework, structural frame design software can help improve communication among designers and contractors.
For residential projects, the 2012 International Energy Conservation Code (IECC) offers specifiers two options when it comes to ductwork: install all ducts completely within the building's thermal envelope or meet stringent finished system leakage requirements of less than 1.9 L/s per 9.3 m2
(4 cfm/100 sf) of conditioned floor area at 25 Pa (0.5 psf). Even in areas where the IECC has not been adopted, the majority of  builders are moving ducts inside the energy envelope because it makes sense from a cost/benefit perspective.
The National Renewable Energy Laboratory (NREL), a division of the U.S. Department of Energy (DOE), notes it is relatively inexpensive to place ducts in conditioned spaces during construction and can reduce electricity demand for cooling by about 15 percent. It also reduces the required capacities for the heating and cooling systems.
NREL analysis also shows locating ducts within conditioned spaces are a more cost-effective investment than other common energy efficiency improvement measures, such as:
R-15 or R-19 walls;
R-40 or R-50 attics;
low-solar heat gain coefficient (SHGC) windows; and
seasonal energy efficiency ratio (SEER) 15 or 17 air-conditioners.
Those measures should still be taken, but placing HVAC ducts in the thermal envelope provides the greatest financial return.
In practice, placing HVAC inside a home's thermal envelope often means running ducts through the floor joists and cavities. The challenge is other mechanicals, such as plumbing, typically occupy the same area. Engineered wood I-joists can be cut to accommodate all the elements, but doing so properly calls for advanced planning and cooperation among trades.