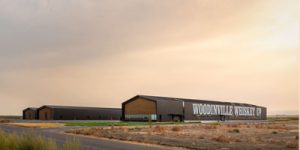 A new Woodinville Whiskey facility has completed the first step of its multi-phase 4.05-ha (10-acre) expansion in Quincy, Washington. The expansion, designed and built by Graham Baba Architects, will be primarily utilized for processing and bottling whiskey.
The initial phase of the expansion features a processing and bottling building, which also houses new corporate offices, and a barrel rickhouse for aging the whiskey. A second barrel rickhouse is currently under construction. Four additional barrel rickhouses are slated for future phases.
The buildings are large—ranging from 12.19 to 21.34 m (40 to 70 ft) wide by 122 m (400 ft) long—and establish a monumental presence within the fields that surround the site.
The client's directive required functional and industrial requirements while clearly conveying the Woodinville Whiskey brand. Building massing is simple, with functional aspects such as vehicle circulation, loading and unloading dictating the site's layout and the buildings' scale. The new complex consists of steel-framed Butler Buildings clad in dark metal siding and Kebony wood. Large Corten-clad sliding barn doors and bands of Corten siding at key locations combine to evoke the warmth and character of the whiskey.
The roof, rectilinear form, and double hung windows of the barrel rick-houses were inspired by traditional whiskey ricking houses and serve both as a visual connection to the traditional methods of whiskey aging as well as a functional purpose. The hot days and cold nights of eastern Washington create the perfect conditions for aging whiskey, allowing for the expansion and contraction of the distillate within the charred oak interior of the barrels, resulting in the oaken profile and russet hue so distinctive of a good bourbon and rye. The rickhouses are uninsulated and unconditioned to maximize the temperature swings that support the aging process.
A tasting room, featuring a tasting bar, windows into the processing area and covered and open patio areas overlooking the fields of rye, corn, and wheat, is planned for a future phase. With fields and distant mountain views, the tasting room will provide an on-site amenity open to the public, unlike any other in the region. The tasting room will be elevated several feet above ground level so that patrons will be visually immersed in the adjacent fields of grain.