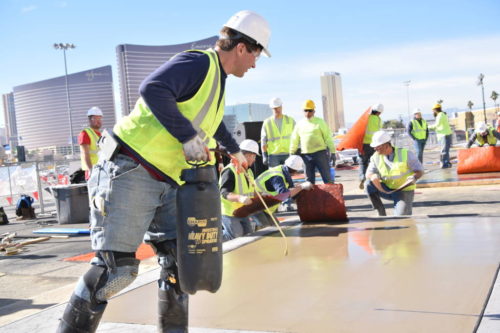 Registration is open for World of Concrete (WOC), hosted at the Las Vegas Convention Center from January 23 to 26. Now in its 43rd year, the event will feature live exhibitor demos, workshops, certification seminars, and more.
With more than 1500 exhibitors, the venue will include more than 67,355 m2 (725,000 sf) of exhibitor space. The site also includes 13,935 m2 (150,000 sf) of outdoor space where attendees can check out machinery demos and interactive events, including the annual Masonry Madness competition hosted by the Mason Contractors Association of America (MCAA) on January 24th.
WOC will also include more than 180 hands-on training sessions, interactive workshops, and certification training courses. The event will also feature seminars on topics such as concrete production, decorative concrete, and concrete repair.
New this year is a presentation by Luke M. Snell, chair of the American Concrete Institute's (ACI's) history committee. Entitled "Construction of the Hoover Dam and the Hoover Dam Bypass," the presentation will explore these two construction projects, which were separated by more than 75 years, and their commonalities. Rick Yelton, WOC's editor-at-large, will also host two visits to the Hoover Dam and Bypass Bridge, where participants will experience a behind-the-scenes look at these concrete structures.
To register, click here.
To coincide with the event, CSI's Las Vegas Chapter will also host its annual Concrete Symposium January 24 and 25 in neighboring Henderson. The meeting will feature industry speakers Robin Snyder, Russell Kendsior, Chris Bennett, Rae Taylor, and Nathan Giffin, as well as a panel discussion about coefficient (COF) standards for architectural exposed concrete floors. For more information on the CSI Concrete Symposium, click here.