by John Woestman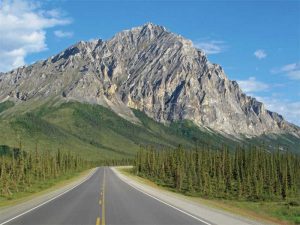 The thermal performance (R-value) of extruded and expanded polystyrene (XPS and EPS) insulation under roads and airfields in cold climates is critical to protect infrastructure from damage caused by permafrost thaw, frost heave, and seasonal thaw weakening. Therefore, the primary factors affecting in-service R-value performance, such as aging and moisture absorption, must be taken into consideration. Architects, engineers, consultants, and specifiers interested in the long-term performance of polystyrene insulation will appreciate a new report based on test results from 15 field-extracted samples of polystyrene insulation from three different below-grade locations in Alaska.
There is an adage regarding constructing in cold regions: "If it is frozen, keep it frozen; if it is thawed, keep it thawed."
The ground beneath many paved surfaces in Alaska is permafrost. It is vital to keep the ground frozen year round to maintain solid and stable foundations for paved surfaces. Since 1969, insulation has been used as one of several permafrost control features to help maintain the frozen ground's structural integrity in the cold regions of North America. Polystyrene insulation buried under the paved surfaces helps block surface heat from melting the permafrost.
In the colder climates and higher elevations of the lower 48, light-use roadways and runways are susceptible to winter-time frost heave (irregular undulations of the road surface) and spring-time thaw softening. If the road's foundation does not freeze, frost heave—caused by expansion of frozen subsoil moisture during the winter—is prevented. Further, come spring, if the road's foundation is not frozen, subsoil moisture can migrate away all year round, preventing weakening of  the road's foundation. In these situations, insulation may be buried in the road's foundation to prevent freezing below the insulation.
Regardless of the application, reliable thermal performance of insulation buried under roads and runways is critical for long-term performance of this infrastructure. XPS and EPS have been the predominant insulation options for these moist, below-grade applications.
Despite the widespread use of insulation beneath roadways and airfields, relatively few studies have been conducted on the long-term thermal performance of polystyrene insulations in such applications.
In 2019, a study on the in-situ performance of XPS and EPS insulation was conducted by Billy Connor, PE, for the Alaska University Transportation Center, Fairbanks, Alaska. This study includes new data, which adds to and complements the in-situ data points obtained by David C. Esch, a highway research manager with the Alaska Department of Transportation and Public Facilities, in 1986 and by Nadia Pouliot and Yves Savard (2003) ("High Density Expanded Polystyrene Boards as Road Insulation, Phase I, Performance Evaluation of Expanded Polystyrene on Road 161 in St-Martyrs-Canadiens" by Nadia Pouliot and Yves Savard [2003] was conducted for the Québec transport ministry). The 2019 study focuses on the measurement of R-values and moisture content in XPS and EPS samples obtained from multiple sites in Alaska.
The final report of the research titled, "Comparison of Polystyrene Expanded and Extruded Foam Insulation in Roadway and Airport Embankments," also known as the Connor study (named after the study's principal investigator), found the following:
to deliver the same long-term, in-service thermal performance (R-value) in moist, below-grade applications, EPS needs to be one-and-a-half to two times thicker than XPS (it is important for the insulation to deliver the necessary thermal performance for many years even while exposed to moisture in below-grade applications);
the new data points confirm previous results indicating higher R-value per inch of thickness for XPS compared to EPS;
small-scale laboratory comparative tests used to classify EPS and XPS products (such as ASTM C272, Standard Test Method for Water Absorption of Core Materials for Sandwich Constructions, or ASTM D2842, Standard Test Method for Water Absorption of Rigid Cellular Plastics, referenced in ASTM C578, Standard Specification for Rigid, Cellular Polystyrene Thermal Insulation, and Underwriters Laboratories of Canada [CAN/ULC] S701.1, Standard for Thermal Insulation, Polystyrene Boards) do not fully account for moisture absorption and its impact on the actual, long-term R-value realized in the field;
newer EPS products did not translate to improved R-value performance, evaluated after field extraction and years of exposure in below-grade applications; and
moisture absorption with EPS has a greater negative impact on in-service R-value than moisture absorption and aging with XPS.