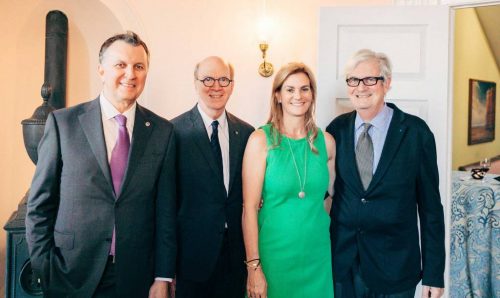 The Architects Foundation has established a new scholarship program in honor of architect Yann Weymouth, AIA. Granted annually beginning next year, the Yann Weymouth Scholarship will be awarded to a graduate architecture student dedicated to integrating exceptional design with sustainable initiatives. The recipient will also have the opportunity to seek guidance and support from the seasoned architect.
"I am deeply honored to be a part of this scholarship," said Weymouth. "This opportunity will allow me to engage, mentor, and guide some of the most talented young architecture students so that they can carry the torch forward to shape our future. For that, I am deeply grateful."
A graduate of Harvard University and the Massachusetts Institute of Technology (MIT) School of Architecture, Weymouth began his architectural career in the late 1960s. He served as chief of design for I.M. Pei on the National Gallery of Art East Wing in Washington, as well as the Grand Louvre Project in Paris. Additionally, Weymouth held positions as senior vice president, design director, and worldwide design board member for HOK Architects, where he contributed to four major museum commissions in the state of Florida. Weymouth currently serves as design director of St. Pete Design Group.
The foundation announced the scholarship at a private reception at the Octagon Museum in Washington D.C. Weymouth attended the event along with his wife, Susana, and daughter, Katharine. Also in attendance were David Skorton from the Smithsonian Institution, Chien Chung Pei, AIA, from Pei Partnership Architects, and William Hellmuth, FAIA, from HOK.
"We are grateful for the opportunity to celebrate Yann's world-renowned career with this scholarship," said Jeffery Potter, FAIA, president of Architects Foundation. "I look forward to seeing his impact on these students translate into successful careers in the architecture profession."
To read more, click here.