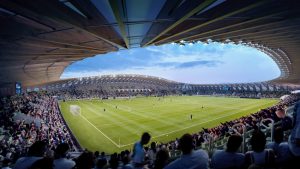 Zaha Hadid Architects have received planning permission for Eco Park Stadium in Gloucestershire, England, which will be the new home of Forest Green Rovers Football Club.
The stadium will be the centerpiece of the £100-million Eco Park development—England-based energy company Ecotricity's 40-ha (100-acre) sports and green technology business park proposal.
The design retains and enhances the existing meadow landscape of the site while adding the stadium and other functions for the town. Embodying low-carbon construction methods and operational processes, the stadium will with almost every element be made of sustainably sourced timber including its structure, roof cantilevers, and louvered cladding.
The stadium's roof is covered with a transparent membrane, which contributes to turf growth, minimizes stark shadows for players and fans, and reduces the volumetric impact of the stadium from distant views in the surrounding landscape.
Fans will be as close as 5 m (16 ft) from the pitch and the position of every seat has been calculated to provide unrestricted views of the entire field of play. The stadium's continuous spectator bowl surrounding the pitch will also help maximize match day atmosphere.
The stadium aims to be carbon neutral, or carbon negative, which includes measures such as the provision of onsite renewable energy generation.