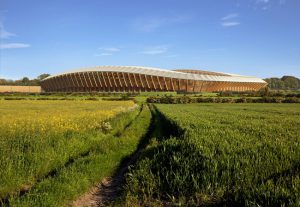 The English Football League has approved proposals by Forest Green Rovers to move into a 5000-seat, all-timber football stadium in Gloucestershire, England, designed by Zaha Hadid Architects.
When completed, Ecopark Stadium will be the new home for Forest Green Rovers Football Club with important new facilities for its local community.
Fans will be as close as 5 m (16 ft) from the pitch. The stadium's continuous spectator bowl will maximize match day atmosphere and incorporate the club's future growth.
Establishing a holistic vision for the site, Ecopark Stadium will embody low carbon construction methods and operational processes and will be the first wood football stadium—with almost every element made of sustainably sourced timber. As building material, laminated timber is durable, safe, and recyclable.
"From an environment point of view, 75 percent of the carbon footprint of all stadia in the entire lifetime comes from the materials they are made from. It is not about the energy used to run them, it is embedded on day one. We will have the lowest carbon footprint of any stadium anywhere in the world since the Romans invented concrete," said Dale Vince, chairman of the club, to Sky Sports TV.
Forest Green Rovers' Ecopark Stadium aims to be carbon neutral (or even carbon negative with the provision of onsite renewable energy generation).