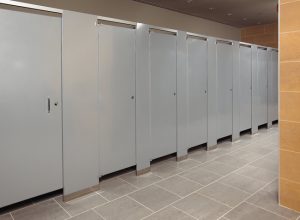 Zurn Industries has entered into an agreement to acquire Hadrian Inc., a provider of washroom partitions and lockers. With this acquisition, Zurn seeks to offer building owners a complete washroom solution and accelerate its strategy of being the leading provider of smart building solutions.
Zurn's offering of hygienic touchless plumbing fixture systems, hand dryers, and smart products, combined with Hadrian partitions aims to set the standard for a safe, hygienic, and connected washroom of the future.
"The expanded portfolio provides building owners with an unparalleled offering of specified washroom content, with a clear focus on increasing value for building owners," Zurn said in a press release.
"We are pleased to welcome Hadrian into Rexnord's Water Management platform," said Craig Wehr, group president of Zurn. "With their passion for serving customers, market leading products, and innovative technology, Hadrian brings a highly complementary culture and can build on Zurn's substantial competitive advantages to expand our combined growth opportunities."
Founded in 1983, Hadrian has expanded over the years to include four state-of-the-art North American facilities, while developing innovations such as enhanced washroom privacy options and anti-graffiti finishes, Zurn said in a press release.