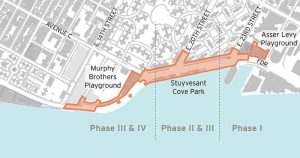 Completion of Phase-I of the $1.45 billion East Side Coastal Resiliency (ESCR) Project has equipped lower Manhattan's Asser Levy Playground area with a 97.5-m (320-ft) long floodwall and a 44,996-kg (99,200-lbs.) floodgate, along with upgrades to the park and landscape to help them better absorb flooding impact.
Asser Levy Playground is home to the northern end of the ESCR Project, touted by New York City's Mayor Eric Adams as the single largest urban climate adaptation project in the country. ESCR Project aims to create a 3.9-km (2.4-mile) flood barrier of berms, floodwalls, moveable gates and raised parkland to protect 110,000 East Side residents from future storms and tidal flooding.
The project involves a multitude of city agencies, including the New York City Department of Design and Construction (DDC), the New York City Department of Parks and Recreation (NYC Parks), the New York City Department of Environmental Protection (DEP), the Mayor's Office of Climate and Environmental Justice (MOCEJ), the New York City Economic Development Corporation (NYCEDC), the New York City Department of City Planning (DCP), and the New York City Department of Transportation (DOT).
Of the project's $1.45 billion budget, $338 million of funding will come from the U.S. Department of Housing and Urban Development. The entire span of the ESCR project—located within the Federal Emergency Management Agency's (FEMA) 100-year floodplain—will incorporate 18 movable gates from Asser Levy Playground (located along Franklin Delano Roosevelt Drive from East 23rd Street to East 25th Street) down to Montgomery Street. The entire project will progress in phases to ensure the community has access to recreational areas during construction. This project is a crucial part of the Adams administration's work to ensure  New York City is better prepared to withstand the impacts of climate change.
"One of the nation's largest resiliency projects doesn't just prevent flooding, East Side Coastal Resiliency also enhances open spaces and recreational spaces for more than 110,000 residents," said DDC commissioner Thomas Foley. "Asser Levy Playground is the first of five park areas to reopen with new resilient play equipment and flood protection integrated into the landscaping. Other local parks will be rebuilt with new bridges, better pedestrian access, new play areas, and thousands of new trees. This comprehensive approach to planning and integration is a model for future coastal protection projects that seek to improve waterfront access."
The entire project—expected to be complete in 2026—is also creating nearly 1,000 new jobs in New York City.