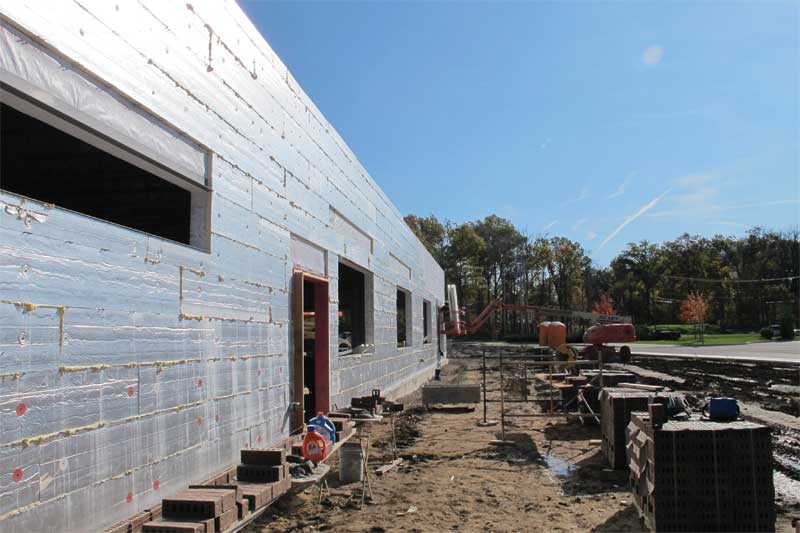 by MacGregor Pierce
In 2015, The United States experienced 113,500 nonresidential structure fires (the latest year for which data on this are available), resulting in 80 civilian deaths and $3.1 billion in property damage. The same year, the country's commercial buildings consumed approximately $144.8 billion in electricity. Building professionals face the multi-faceted challenge of minimizing all these figures for their clients.
An interesting dynamic in U.S. building codes is the dual requirement for the building envelope to both be energy-efficient and help protect life and property against fire. These two needs intersect clearly in wall-assembly requirements. On one hand, American Society of Heating, Refrigerating, and Air-conditioning Engineers (ASHRAE) 90.1, Energy Standard for Buildings Except Low-rise Residential Buildings, and the International Energy Conservation Code (IECC) require continuous insulation (CI); on the other, rigid-foam insulations commonly used to provide CI must also meet fire-safety requirements. Specifically, National Fire Protection Association (NFPA) 285, Standard Fire Test Method for Evaluation of Fire Propagation Characteristics of Exterior Non-loadbearing Wall Assemblies Containing Combustible Components, requires rigorous testing of foam-plastic insulation within wall assemblies.
This article focuses on rigid-foam CI options that can simplify meeting NFPA 285 requirements.
NFPA 285 overview
At its core, NFPA 285 is intended to evaluate the performance of combustible materials in wall assemblies required to be noncombustible.
Scope
With limited exceptions, International Building Code (IBC) Section 2603.5.5, "Vertical and lateral fire propagation," requires wall assemblies in Type I, II, III, and IV construction using foam-plastic insulation to pass NFPA 285 testing requirements. Despite the use of 'non-loadbearing' in its title, NFPA 285 applies to both non-loadbearing and loadbearing walls.
The NFPA 285 official document scope states:
This test provides a method of determining the flammability characteristics of exterior, non-load-bearing wall assemblies/panels. The test method described is intended to evaluate the inclusion of combustible components within wall assembled/panels of buildings that are required to be of non-combustible construction. It is intended to simulate the tested wall assemblies' fire performance.
It is important to remember NFPA 285 is an assembly test, not a product-specific test. Although a given component passes the test in one assembly, this does not mean it will be compliant in another. As a result, when designing NFPA 285-compliant wall assemblies, certain combustible components cannot be mixed and matched without engineering evaluation conducted within limits imposed by 
the IBC.
The test of the assembly is comprehensive and includes everything from the interior drywall to the exterior cladding, along with the structural elements, insulation, and water and air barriers.