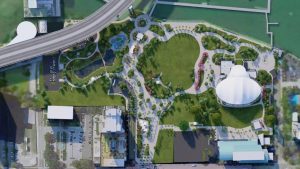 A Jan. 6 ceremony will commemorate the placement of the highest piece of structure as part of the $84 million redevelopment, titled Imagine Clearwater, in downtown Clearwater, Florida.
The structure is a canopy which will be placed on the project's bandshell auditorium, to be fitted with 4000 seats, with an additional space for 5000 more eventgoers on the bandshell lawn in Coachman Park.
Imagine Clearwater construction is expected to be completed in July on 7.6-ha (19-acres) of redeveloped park, including 1.6-ha (four-acres) of flexible event space, new bathrooms, a splash pad, a playground with $1.2 million in equipment, a lake with a pedestrian bridge, picnic pavilions, and other amenities.
Clearwater city staff, construction crew members, and dignitaries will be present at the topping out ceremony, which will be a celebration of the progress made on the park by city staff, and design partner Stantec, and construction team Skanska.
The ceremony will take place on the north bluff walk of the construction site, adjacent to the Clearwater Main Library, which overlooks the bandshell. Beginning at 11:30 a.m. (EST), attendees will have the chance to sign the canopy piece before it is placed on the highest point of the structure, honoring construction workers who thus far have logged more than 150,000 work hours on the project.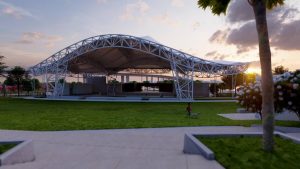 "We're proud to work collectively with the city of Clearwater and Stantec to bring Imagine Clearwater to life. Our dedicated tradesmen and women are ecstatic to support shaping the future of our community through transformative public spaces such as this incredible project," says Chuck Jablon, Skanska's senior vice president of construction.