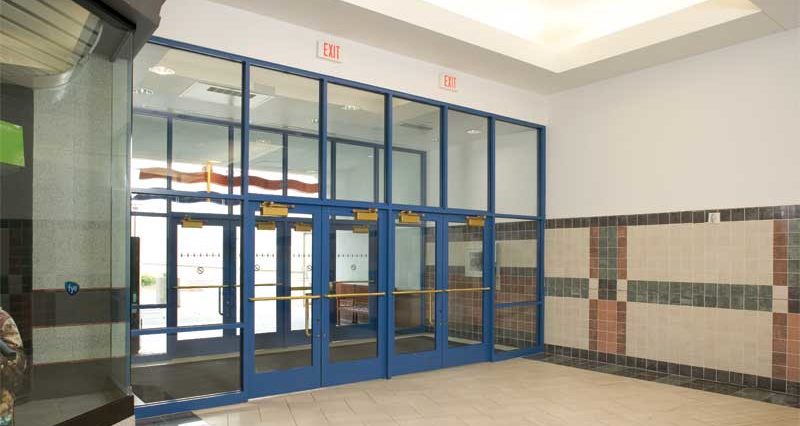 by Jon O'Neil
Selecting entrance systems for use in commercial and institutional buildings involves balancing multiple factors, including location, function, and appearance, along with the occupants' frequency of use, the facility manager's maintenance program, and the project's budget and schedule. Combining these considerations with code and performance specifications will determine whether the doors chosen are standard, modified, or custom.
This article offers five key factors to consider throughout the selection process for aluminum swinging doors and frames in commercial applications:
extruded aluminum components;
hardware requirements and specifications;
frame types, components, and options;
performance expectations and requirements; and
finish choices.
Extruded aluminum components
Aluminum is frequently the material of choice for manufacturing commercial fenestration systems such as windows, curtain walls, storefronts, and entrances. The American Architectural Manufacturers Association/Window and Door Manufacturers Association (AAMA/WDMA) 2015/2016 report, "Study of the U.S. Market for Windows, Doors, and Skylights," stated aluminum accounted for about 89 percent of nonresidential construction.

Aluminum's strength, light weight, corrosion resistance, recyclability, and ease of fabrication make it suitable for a broad range of applications. In commercial fenestration systems, aluminum extrusions are used frequently for framing members and other components.
The aluminum extrusion process forms metal products by pushing a heated billet of aluminum through a die before a finish is applied. The shape of the die determines the shape of the extrusion. Using aluminum billet and a powerful hydraulic press, extruders can produce almost any shape imaginable. Complex shapes can be realized in one-piece extruded aluminum sections without having to rely on mechanical joining. The resulting profile is typically stronger and less likely to loosen or leak over time than an aluminum section with mechanical joining.
Approximately one-third the weight of iron, steel, copper, or brass, aluminum extrusions tend to be comparatively easier to handle, less expensive to ship, and an attractive material for use in applications where weight reduction is a priority, according to AAMA's Aluminum Material Council. (For more, read "Aluminum: The Total Solution for Sustainable, Strong, and Efficient Commercial Building Design," at www.aamanet.org/pages/brochures.) Tooling for aluminum extrusion also is relatively inexpensive and generally has short lead times, which facilitates prototype development, testing, and product launches.
Due to the very  nature of the extrusion process, aluminum's strength can be improved by including varying wall thicknesses and internal reinforcement in the profile design. Cold-weather applications are particularly well-served by thermally improved extrusions. Aluminum becomes stronger as the temperatures fall, and in warm-weather applications, it will not warp. This material also combines strength with flexibility—it can flex under loads or spring back from the shock of impact, such as from an explosive blast or from windborne debris in hurricanes.
Aluminum will not rot, peel, or flake. It does not burn, even at extremely high temperatures, and does not produce toxic fumes. Extrusions also offer excellent corrosion resistance, as they do not rust. Aluminum surfaces are shielded by their own naturally occurring oxide film—a protection that can be enhanced by anodizing, painting, or other finishing processes.
Supporting environmentally responsible building projects, aluminum—in the form of bauxite—is the third-most-abundant element in the Earth's crust, next to oxygen and silicon. According to the Aluminum Association, demand for aluminum is up almost 30 percent from 2009 due to increasing interest in energy-efficient products and production processes, such as those promoted by green building guidelines such as the Leadership in Energy and Environmental Design (LEED) rating system. Nearly 75 percent of all aluminum produced is still in use today. At the end of its useful life as a fenestration component, this material can be recycled infinitely, with no degradation of mechanical properties.