by Tony Smith and John Carson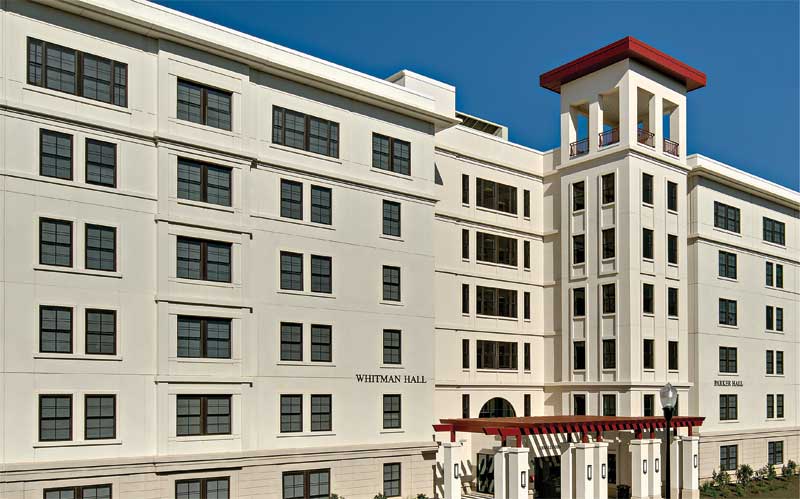 The theme of transportation was dominant when architecture firm Leo A. Daly designed a five-building distribution center for Dollar General in Bessemer, Alabama. Rather than opting for a conventional finish on the warehouse's precast exterior walls, the Omaha-based design firm sought a visual way to bring the theme to life.
Designers landed on a geometric pattern of an enlarged tire tread. They worked with a precast company headquartered in South Carolina to integrate the tread design into many of the wall panels comprising the façade. The distinctive and pleasing result differentiates the structure from other warehouses and speaks to the modern logistics operation inside the walls.
Applications such as Dollar General exemplify the aesthetic options possible with precast concrete; finishes complement the material's low maintenance and durability properties.
Further, the controlled manufacturing environment enhances quality by giving manufacturing teams a predictable setting in which to integrate the finish into the exposed wall or enclosure surface. Forms are often used multiple times for consistency and cost efficiency.
Often associated with commercial, institutional, and industrial structures, precast concrete panels are also used in multifamily residential and student housing projects. The diversity of end-use applications demands flexibility in the finish options available to architects and designers.
However, selecting the ideal product requires a thorough understanding of finish characteristics and fabrication processes.
Understanding precast basics
The process of manufacturing precast wall panels influences the way in which finishes are imparted to the façade, so it is important to understand how they are fabricated.
Precast concrete walls are created in a "form," or mold, typically in an offsite manufacturing facility protected from the elements. The form or casting bed is usually made of wood or steel. Reinforcements and prestressing strand is set in the form, and wet concrete is then poured, monitored, and cured. A layer of insulation is often integrated between separate concrete wythes, which are connected through the insulation by shear trusses if a sandwich wall is desired. The panel is removed from the mold, usually on the following day, and the mold is reused for other panels on the project. After reaching the specified strength, the complete panel can then be transported to the construction site, usually less than 805 km (500 mi) from where it is produced, and erected
into place either horizontally or vertically.
A primary advantage of precast concrete is the ability to express a variety of unique design aesthetics. Ironically, the durable nature of precast also presents a disadvantage—the finishes are "set in stone," so it is essential to think long term. The types of precast finishes can be grouped based on the concrete's component elements, treatments, casting process (i.e. special forms), embedments, or graphic images. Each of these finishes is described below.