Component elements
The primary components of concrete—cement, aggregate, and water—have a major impact on the finish. Any aesthetic finish starts with the concrete's mix design.
The aggregate and cement color can be selected to achieve both functional and aesthetic results. Conventional gray cement is the choice for many industrial buildings, while white cement can provide a modern, clean look. Pigmentation refers to additives to the mix design that incorporate color at an integral level. Essentially, cement color is the "default" color for the panel; it is the visible element when not displaced by aggregates or covered by embedded materials like thin brick or tile.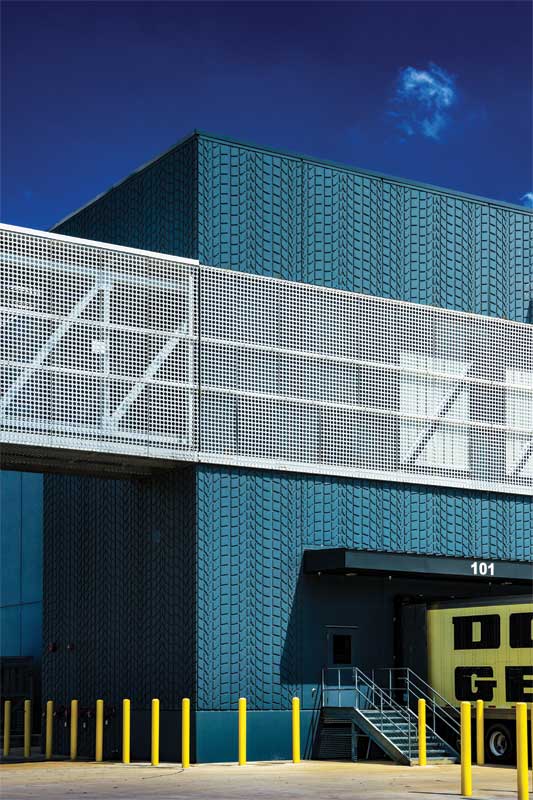 Aggregates further impact the look of the final product. Coarse aggregate yields a rough, bulkier texture and more sedimentary appearance, while finer aggregate yields a smoother look and feel. Aggregate color, composition, and texture can vary widely based on geographic availability. It is wise to consult with precasters in the region before specifying a finish depending on a specific aggregate as it may not be readily available.
Color generally refers to a surface-level addition, such as paint or stain, applied to the precast surface in the factory or field. A number of commercial options are available. It is critical to specify a paint or stain formulated especially for concrete. Surface preparation is often a requirement.
The Heights at Montclair State University, New Jersey, serves as an example of how these finishes can be combined to meet aesthetic goals and achieve sustainability objectives (see page 46). The school's original 1908 buildings had a Spanish Mission style officials hoped to see reflected in the new building. For the two-tower, 1600-student project, PS&S Architecture out of Warren, New Jersey, designed exteriors reminiscent of the original stucco, but with the ability to achieve modern aims including durability and a minimized carbon footprint.
The precast concrete was manufactured within 805 km (500 mi) of the project, using at least 90 percent materials from within the same radius. This helped with the carbon footprint, as did using fly ash in place of some of the Portland cement. The fly ash did not impact the finish. Buff and white colors connected the building with its stucco forebears.