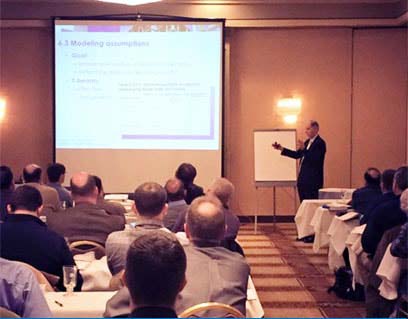 The American Concrete Institute (ACI) will be holding fall seminars focusing on its standard, ACI 318-14, Building Code Requirements for Structural Concrete and Commentary, which will also be available as an online course.
Participants can learn about the new code from an expert during the live seminars, or at their own pace by taking the course, which is through ACI University and can be purchased by an individual user or a group of five users at a reduced rate. Attendees will receive continuing education units (CEUs) for both.
ACI 318-14 is the first major change in code organization in more than 40 years. It has been completely reorganized from a designer's perspective. To simplify usage, nearly all chapters were changed, including separate member design chapters, and new chapters on structural systems, designing with a systems approach, diaphragms, and constructing documents, testing, and inspection. There are more tables, figures, charts, and a consistent format to better locate future technical additions and changes. (For more on the changes, see this article from the February 2015 issue.)
"Architects, specifiers, and other occasional users of the new code will be particularly interested in the new Chapter 26, 'Construction Documents and Inspection,' which consolidates the minimum quality construction standards that need to be in construction documents in one location," said ACI marketing communications specialist, Julie Webb. "This new chapter can be used as a checklist for the designer, architect, and specifier to convey information developed in the structural design to the contractor directing the contractor on required quality and inspection to verify compliance with the construction documents."
The seminars will help users of the code get acquainted with the new organization and technical changes. Presenters will demonstrate how to use the new code to help ensure designs comply with it.
The seminars will take place on the following dates:
September 10 – Pittsburgh, Pennsylvania;
September 15 – Raleigh, North Carolina;
September 17 – Chicago, Illinois;
September 22 – New Brunswick, New Jersey;
September 24 – Minneapolis, Minnesota;
September 29 – Albany, New York;
October 1 – Des Moines, Iowa;
October 6 – Portland, Oregon;
October 8 – Baltimore, Maryland;
October 9 – Little Rock, Arkansas;
October 13 – Houston, Texas;
October 15 – Tampa, Florida;
October 20 – St. Louis, Missouri;
October 22 – Cincinnati, Ohio;
October 27 – Indianapolis, Indiana;
October 29 – Savannah, Georgia;
November 3 – Nashville, Tennessee;
November 12 – Denver, Colorado;
November 17 – Emeryville, California;
November 19 – Richmond, Virginia;
December 1 – New Orleans, Louisiana;
December 3 – Miami, Florida;
December 10 – Dallas, Texas; and
December 15 – San Diego, California.