ACI Foundation names 2022-2023 fellowship and scholarship recipients
by brittney_cutler | April 19, 2022 8:54 am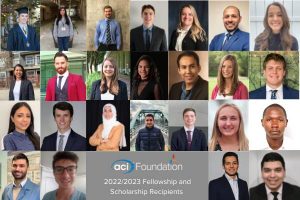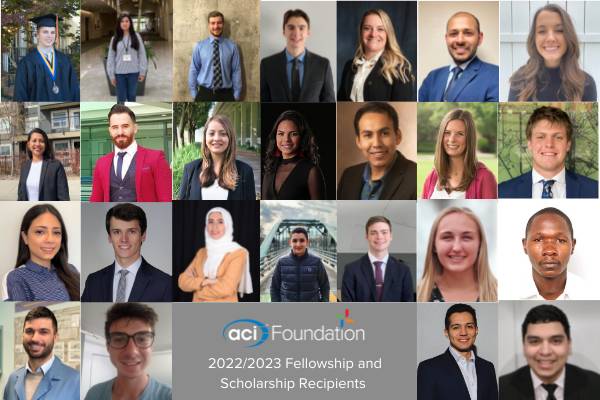 The American Concrete Institute (ACI) Foundation has awarded 16 fellowships and nine scholarships to students from 23 different institutions.
All fellowship recipients will receive a $10,000 educational stipend, paid travel expenses and attendance fees to two ACI conventions, and assistance in finding an industry mentor.
The 2022-2023 fellowship recipients are as follows:
ACI Foundation Concrete Materials Fellowship
• Jesús Castro Pérez, University of Illinois, Urbana-Champaign
ACI Foundation Concrete Practitioner Fellowship
• Abigail Kienzle, Clarkson University
ACI Foundation Future Concrete Industry Leader
• Ariel Majano, New Jersey Institute of Technology
ACI Foundation Middle East & North Africa Fellowship
• Nouran Elmesalami, New York University, Abu Dhabi
ACI Presidents' Fellowship
• Nafiseh Kiani, University of Miami
Baker Student Fellowship
• Jordan Duck, Kennesaw State University
Barbara S. and W. Calvin McCall Carolinas Fellowship
• Lily Polster, University of Notre Dame
Burg-Coleman Iowa State '77 ACI Fellowship
• Caleb Stevenson, Iowa State University
Charles Pankow Foundation Student Fellowship
• Brenda Amada Cardona Cepeda, University of Illinois, Urbana-Champaign
Daniel W. Falconer Memorial Fellowship
• Ziad Elaghoury, University of Western Ontario
Don Marks Memorial Fellowship
• Luke Somerville, University of Illinois, Urbana-Champaign
Nicolas F. Maloof Jr. GA Chapter Fellowship
• Chelsea Bidgood, Colorado State University
Richard D. Stehly Memorial Fellowship
• Adam Johnson, University of St. Thomas
Robert F. Mast Memorial Fellowship
• Hunter Hutton, Virginia Polytechnic Institute and State University
S.P. Shah Fellowship
• Luca Montanari, University of Texas, Austin
Tribute to the Founders Fellowship
• Ferdinand Niyonyungu, University of Kansas
All scholarship recipients will receive a $5000 educational stipend.
The 2022-2023 scholarship recipients are as follows:
ACI Foundation Scholarship
• Gabriel Johnson, University of Arkansas
ACI Foundation Scholarship
• Mahesh Acharya, Idaho State University
Bertold E. Weinberg Scholarship
• Nuzhat Kabir, Texas A&M
Katharine & Bryant Mather Scholarship
• Marwa Ibrahim, University of Calgary
Master Builders Solutions Concrete Materials Scholarship
• Rubaiya Rumman, University of British Columbia
Nick Bada – ACI Ontario Chapter Graduate Scholarship
• Brandon Boles, University of Toronto
Schwing America Scholarship
• Andrew LeBoeuf, University of Virginia
Stewart C. Watson Memorial Scholarship
• Adel Al Ekkawi, University of Calgary
Gene Corley Scholarship
•  Cristian Rodrigo Tolava Torrico, Southern Illinois University Edwardsville
The online application process for the ACI Foundation's 2023-2024 fellowships and scholarships will open on July 1 and close on November 1.
Endnotes:
[Image]: https://www.constructionspecifier.com/wp-content/uploads/2022/04/BC_ACI.jpg
Source URL: https://www.constructionspecifier.com/aci-foundation-names-2022-2023-fellowship-and-scholarship-recipients/
---