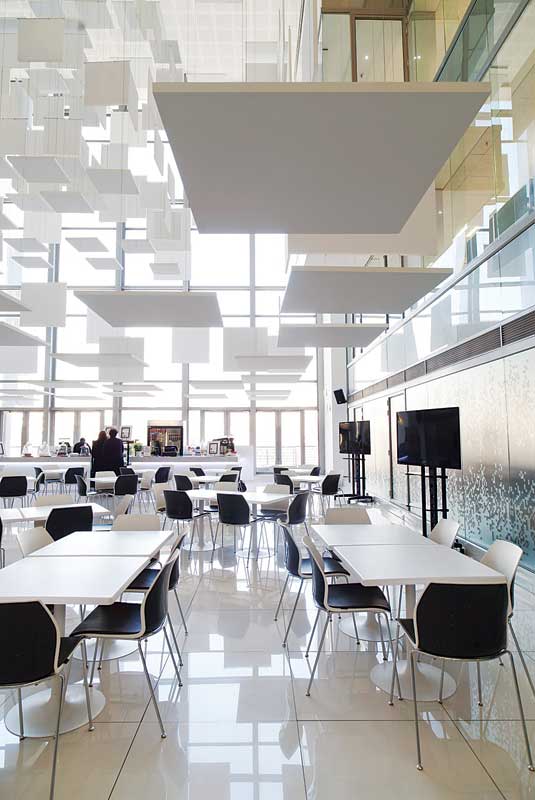 These questions might seem trivial at first, but common concerns such as privacy and distractions have been proven to affect productivity, reducing worker output and ultimately the bottom line for employers. Design firm Gensler estimates three out of every four American workers are struggling to work effectively in ineffective workplaces. (More on the survey from which Gensler derived this statistic can be found here.) In fact, distractions in the open-office environment have forced workers to exhaust themselves with increased efforts to concentrate, abandon current tasks to deal with interruptions, and take as much as 15 minutes to regain their train of thought and get back into the flow of complex tasks.
"Designers have to address several factors when it comes to open, collaborative office concepts," says Marshall. "The first thing typically addressed is the ceiling, as it's an excellent sound absorber. In order to effectively measure how well the ceiling will absorb sound, it's important to evaluate the articulation class (AC). This is a rating system for speech privacy performance within an open-plan environment."
Marshall also states partitions can be used to provide visual privacy as well as blocking sound.
"Open collaborative spaces increase airborne noise and visual distractions," agrees Johnson. "To address these challenges, designers can take a holistic approach that accommodates acoustical ceiling tiles and partitions within the space. The integration of both reduces airborne sound transmission and visual disruptions."
In a healthcare setting, for example, a rolling hospital bed may be heard in the room or floor below. Implementing acoustical ceiling tiles and sound masking will reduce the perceived transmission of that heavy load. These systems work together to efficiently mitigate sound, with no single system working best independently.
Concern for privacy has turned much more serious in recent decades, due to the passing of privacy-protection laws by the federal government. Current U.S. law requires the transfer of health records, for example, to conform with privacy requirements passed in the 1996 Health Insurance Portability and Accounting Act. This encompasses privacy for digital transfer of health records between healthcare providers, and presumably aural privacy as well.
Many universities and other higher-education facilities must also provide administrators and faculty with private spaces where they can meet with students to discuss grades, disciplinary action, and other personal or sensitive information.
Benefits of designing with sound-absorbing materials
An example of a space utilizing sound-absorbing materials to improve acoustic conditions is global engineering company AECOM's new offices in Pretoria, South Africa. Built in 2014, the offices include several acoustical ceiling solutions, with the most impressive part located in the atrium. Though this space was originally just an entrance, AECOM decided it could be used as a dining and lounge area as well.
Given this particular spot would be utilized for informal meetings, training, and presentations, high noise levels were expected. The design goal was to explore the effects of an explosion and to translate it both visually and practically.
The result is a complex, visually stunning installation of acoustic ceiling tiles and baffles in a combination of standard and custom sizes. The long reverberation time originally present in this space has been reduced dramatically, with the ceiling solution making a substantial difference to noise levels, greatly improving overall speech clarity and intelligibility.