by Gary Madaras, PhD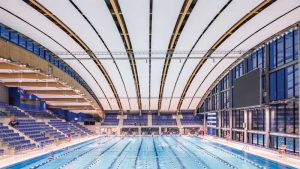 Whenever the topic of school acoustics comes up, most often the discussion centers on the ability, or inability, of students to understand their teachers inside classrooms. While this is arguably the most important acoustical aspect inside education facilities, it is not the only one. Schools serve as an example of facilities having a variety of room types and desired acoustic experiences. In addition to classrooms, schools contain gyms, auditoriums, cafeterias, media centers, offices, recording and broadcast studios, industrial shops, natatoriums, and band rehearsal rooms—the list is long and diverse. These rooms play their part in the education process. To focus just on the acoustics of the classrooms, or to treat every room and space as if it were a classroom, limits the overall acoustical and academic experiences in these facilities.
A designer or specifier should not be overwhelmed by the variety of room types in schools. The first step in the acoustic planning process is to categorize each room by its core function as one for speech, focus, activity, or music. The core acoustics function of a black box theater or special education classroom is speech intelligibility. Other spaces in the facility including administrative offices, libraries, and lounges could be meant for relaxation, individual focus, or privacy. A natatorium or weight-training gymnasium is for neither speech nor music, but the acoustics are still important. The people in these potentially noisy rooms require overall acoustic control, while keeping the activity energized. An individual music practice room and choir rehearsal room are primarily for music listening.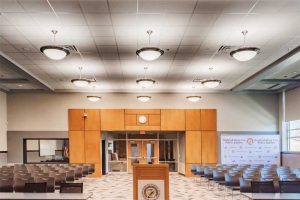 The core acoustic function of any room or space tends to affect its natural shape and size. It would be challenging to achieve speech intelligibility in a 8-m (25-ft) tall classroom. It would be equally challenging to achieve ensemble playing in a circular orchestral rehearsal room. Beyond shape and size, the finishes also affect a room's acoustics. Glass, metal, stone, wood, and concrete are sound-reflective and can be used in a lecture hall to passively amplify the speaker's voice. If those are used too liberally though, it can result in excessive reverberance and make speech difficult to understand.
Due to this intimate relationship between room size, shape, finishes, acoustics, and core function, an advisable approach is to use the acoustical purpose of the room in question to drive its aesthetic design and the specification of its surface materials. The most important factor, and the focus of this article, is the specification of sound-absorbing finishes or treatments in relation to the size of the room.
Rooms for speech
Rooms for speech inside educational facilities can vary in size and function from a 10-seat meeting space and a 100-seat lecture hall to a 1000-seat theater. The primary acoustics goal in each is high speech intelligibility. In classrooms, this means students have longer attention spans and are less likely to drift away from the lesson mentally, even when seated in the rear of the room. A well-designed speech room can hold listeners' attention even as the speaker moves, turns away, or is blocked from direct line of sight and sound.
Making speech intelligible inside rooms requires a loud sound source and low noise levels—in other words, a high signal-to-noise ratio.