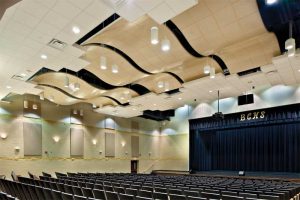 Music rooms are larger in volume relative to their occupancy than speech areas are. The increased size is required to ensure sound reverberates in the room, thereby making the music fuller, louder, and enveloping. As room volume increases, RT lengthens.
The proportions and shape of a music room's volume are also very important. Only certain configurations will develop a quality reverberant field. While low, squatty rooms may have the needed volume, the shape of the room prevents a reverberant sound field from developing and instead, the room is plagued by echoes off the greatly spaced walls. Acoustics consultants would help the design and specification team program the music rooms during the conceptual design phase, and provide overall massing, shape, and size that will work appropriately as the design progresses. Often, because the music rooms are large and dominate the building massing, their sizes and locations anchor the overall site and building design.
When a dedicated music performance space is sized and shaped correctly, very little, if any, permanent sound absorption is required. Typically, the furniture and patrons in the seats provide adequate absorption in music rooms. If a lot of permanent sound absorption is required, either the space is oversized and one is trying to decrease the maximum RT, or the room is incorrectly shaped and the attempt is to attenuate echoes. Both can be avoided with good acoustic design. Conversely, multipurpose auditoriums for speech and music typically require more sound absorption. While it is beyond the scope of this article, music rooms also require a different type of surface known as sound diffusive. These surfaces are hard and sound reflecting, but are sculpted or shaped to disperse sound energy in specific directions. This is another reason why experienced acoustics consultants should help guide the design and material specifications.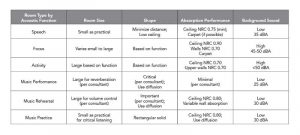 Rooms for music practice and rehearsal require more sound absorption at higher NRC ratings above 0.80 than properly designed performance spaces. This is true especially in early education because young musicians have not yet mastered volume control. A marching band rehearsal room in a middle school requires most surfaces to be covered with NRC 0.90 or higher absorption to help control the power of the band. Another reason for installing more sound absorption in music practice and rehearsal rooms is so the music students and their teachers or directors can accurately hear subtleties of intonation and embrasure.
The rooms and spaces inside an educational facility can be categorized by their core acoustic function:
speech;
focus;
activity; or
music (Figure 1).
Speech rooms need to be as small as possible with low ceilings and small volumes, and include the correct amount of sound-absorptive surfaces (NRC 0.75+) that decrease RT, but still allow early reflections to make speech intelligible and intimate. Focus rooms could be sized and shaped per non-acoustic drivers, but require a large extent of high-performing sound absorption overhead (NRC 0.90), on the walls (NRC 0.70), and on the floor. The size and shape
of activity rooms are determined by the functions occurring within them. Their heights should be minimized. Moderate sound absorption (NRC 0.70) is needed overhead and on the upper walls.
Music room design is complex and challenging. The size and proportions are critical and must be determined early in the conceptual design phase. They require not only sound-reflection, but also sound-diffusive surfaces in the correct locations. Rooms for younger musicians and individual practice or group rehearsal require more sound absorption from their ceilings (NRC 0.80+) to help with volume control and the hearing subtleties of playing.
Designers and specifiers can create wonderful sounding schools, making the acoustics a positive factor in student and teacher success, by remembering most spaces fall into one of four core acoustic functions, each having different size, shape, and absorption requirements.