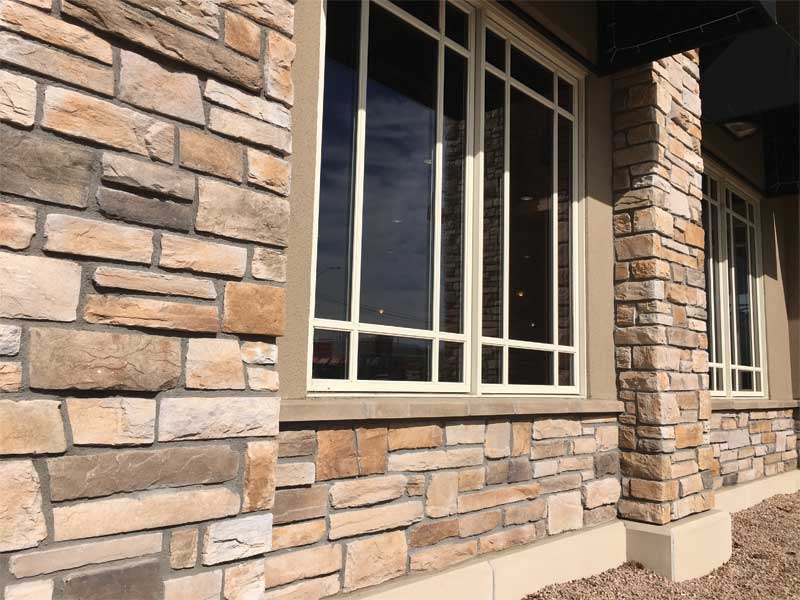 by Chris Hines
Stone has long been admired as a building material that not only looks beautiful, but also withstands the test of time. From the Great Pyramids and parts of the Colosseum to some of the oldest homes in America, many stone structures still stand after centuries. Further, the stone market continues to evolve. Adhered manufactured stone veneer (AMSV) offers remarkable design possibilities that provide the appearance and durability of natural stone without the associated weight or installation costs. When properly manufactured, designed, and installed, this material makes it possible to achieve design visions coupled with lasting performance.
The Masonry Veneer Manufacturers Association (MVMA) defines AMSV as:
a lightweight, architectural, non-loadbearing product that is manufactured by wet cast blending cementitious materials and aggregates, with or without pigments, admixtures, or other materials to simulate the appearance of natural stone and other masonry materials.
(For more information, consult Masonry Veneer Manufacturers Association's [MVMA's] "Installation Guide and Detailing Options for Compliance with ASTM C1780.")
However, not all manufactured stone is the same. Selecting AMSV from a reputable stone provider is the foundation for durable construction with strong performance in cold weather and extended exposure to wet conditions. It is important to look for products that have undergone stringent third-party testing under organizations and standards such as International Code Council Evaluation Service (ICC-ES) AC51, Acceptance Criteria for Precast Stone Veneer, or ASTM C1670, Standard Specification for Adhered Manufactured Stone Masonry Veneer Units, which verify quality, reliability, and consistency of building materials. AMSV produced to the highest-quality testing standards often comes from manufacturers with an ANSI Accredited Evaluation Service Report (ESR).
Once the right AMSV has been selected, proper installation practices are crucial to achieving a durable system. When working in areas that experience harsh winter weather, installation is the time to ensure the project is weatherproofed to stand up to months of freezing temperatures and the elements. Careful installation through approved methods is vital to the longevity of any siding—improperly done, it opens the door to moisture intrusion, poor drainage, and deterioration. Even the finest materials will fail when exposed consistently to water intrusion.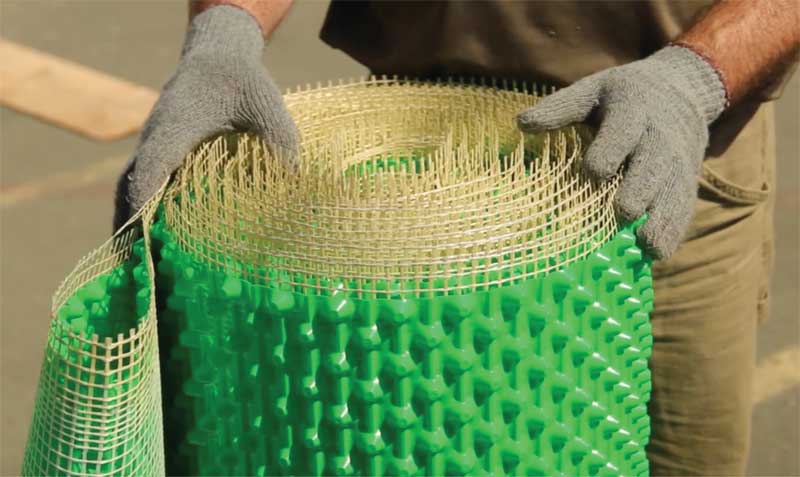 Moisture protection and water management is crucial
If not rain, structures will be exposed to melting snow or ice. Water can be relentless in its attempt to infiltrate the system one way or another. To maximize durability, the AMSV installation must include a means for proper drainage. If water intrudes behind a veneer due to voids associated with improper installation or damaged materials, it can lead to mold, rot, and mortar deterioration. Of particular concern is water penetration occurring during colder months, when more extensive damage is possible due to the expansion and contraction of the freeze-thaw cycle. This can damage mortar and—if deterioration progresses—result in AMSV bond failure, spalling, or other negative effects.
The weather-resistive barrier (WRB) is the primary line of defense for providing adequate protection of susceptible building materials. This layer, part of a concealed barrier system, is often the drainage plane. There are several types of WRB systems available, and building designers can select one that best fits the building climate. (Selecting a proper WRB for airtightness and water drainage is up to the discretion of the building owner and contractor's knowledge of available products. By comparing performance properties, one can select a moisture vapor perm rating that fits the climate and building. It is advised to research the available options and look for a solution that can pass moisture vapor without requiring physical perforation of the material.)

A second layer of WRB, called the sacrificial layer, is added to keep mortar off the primary layer and create a small drainage path. This layer can be the same material or even product as the primary, but it does not have to be as robust at drainage, since it is sacrificial. The key is having a drainage plane between the sacrificial and primary layers to allow for drainage and keep the primary layer from being soaked. This double-barrier method helps protect against incidental moisture from a failed flashing or water management defect, enabling it to drain and exit the bottom to help provide a healthy, dry wall system.