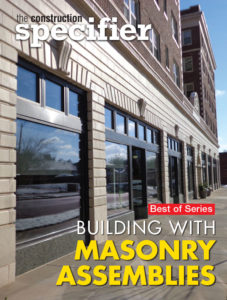 Since adhered masonry veneer began being used in the 1950s on small-scale accents, applications for these systems have increased dramatically over the past few years. Of course, so too has their scope and complexity.
While designers generally understand basic building science for durable and energy-efficient anchored masonry veneer systems, they are sometimes given conflicting design information or misdirection by others to skip or minimize critical control layers in exterior adhered assemblies.
To achieve properly designed and installed adhered masonry veneer systems, designers and builders must resolve building code, industry standards, and evolving manufacturer recommendations to create complete wall assemblies that can be durable in any climate. The key is for the assemblies to be designed properly and installed by educated designers and trained masons who know better than to just do it the way they used to on small residential projects.
An article in our newest sponsored e-book examines these issues, helping design/construction professionals. It appears along with a trio of other articles from the pages of The Construction Specifier in "Building with Masonry Assemblies," a free, downloadable resource. To get your copy in either pdf or digital edition, visit https://www.constructionspecifier.com/ebook/hb-building-with-masonry-assemblies-ebook.