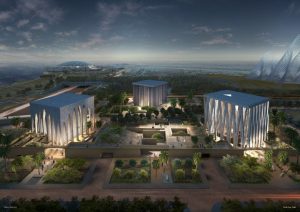 Adjaye Associates won the Abrahamic Family House competition on Saadiyat Island in Abu Dhabi, U.A.E. The project is a collection of three religious spaces—a mosque, a synagogue, and a church—sitting on a visitor pavilion.
The contemporary design was chosen after a rigorous process that included architects of diverse backgrounds and faiths from around the globe.
Adjaye's design incorporates separate worship spaces for each religion as well as a shared space for collaboration and informal gathering.
"We were led toward these powerful plutonic forms with a clear geometry, three cubes sitting on a plinth—though not aligned, they each have different orientations," said David Adjaye about the architectural design. "The story then starts to become apparent through the power of the silhouette, unified with commonality and the articulation of the three forms. These structures represent a safe space, each volume illustrated with colonnades, screens, and vaults to represent the sacred nature."
The project is expected to be completed in 2022.