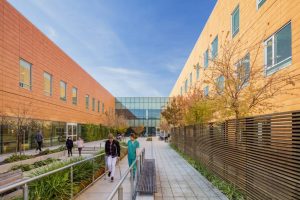 The American Institute of Architects (AIA) Academy of Architecture for Health (AAH) is recognizing five projects with its 2019 Healthcare Design Awards.
The awards celebrate cutting-edge designs that help solve aesthetic, civic, urban, and social problems while also being functional and sustainable. Recipients can include healthcare building design, planning, and research. This year's projects were awarded by a seven-member jury in multiple categories.
The Westlake Dermatology Concrete and Glass Pavilion in Marble Falls, Texas, by Matt Fajkus Architecture won in Category A along with the Gheskio Tuberculosis Hospital in Port-au-Prince, Haiti, by Mass Design Group.
One of the winners in Category B is the U.S. Department of Veterans Affairs Palo Alto (VAPA) Polytrauma and Blind Rehabilitation Center in Palo Alto, California, by the SmithGroup and Design Partnership LLP.
Montalba Architects' Studio Dental II in San Francisco, California, won in Category C.