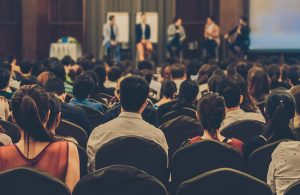 Due to the COVID-19 pandemic, the American Institute of Architects (AIA) has postponed the AIA Conference on Architecture 2020 (A'20), which was scheduled for May 14 to 16 in Los Angeles, California.
AIA currently is working with its partners and vendors to reschedule A'20 or offer an alternative.
"As you know, AIA has been closely monitoring directives from city, county, and state officials, as well as the Centers for Disease Control and Prevention (CDC) and the World Health Organization (WHO) throughout this crisis," AIA said. "Your health and safety are paramount, and AIA feels compelled to postpone the annual conference to minimize the risk to all concerned."
More information and updates can be found on their FAQ page.
Here are other architectural events that have been postponed, or cancelled altogether, due to the global pandemic.
Postponed
The National Institute of Building Sciences has moved the Building Innovation Conference scheduled for April 6 to 9 to August 16 to 19 in Arlington, Virginia.
The Council on Tall Buildings and Urban Habitat (CTBUH) has postponed the 2020 Tall + Urban Innovation Conference, which was scheduled to take place in Chicago, Illinois, from April 5 to 8. Instead, the CTBUH Awards Program will now be incorporated into the CTBUH 2020 Singapore & Kuala Lumpur conference, taking place from October 19 to 23.
The Adhesive and Sealant Council (ASC) has postponed the 2020 World Adhesive and Sealant Conference that was scheduled for April 20 to 22 in Chicago.
The upcoming edition of the Salone del Mobile.Milao in Milan, Italy, has been postponed to June 16 to 21.
The LEDucation 2020 Trade Show and Conference, slated to be held on March 17 to 18, is rescheduled for August 18 to 19 in New York.
Cancelled
American Institute of Steel Construction (AISC) has cancelled the 2020 NASCC: The Steel Conference, which was scheduled for April 22 to 24 in Atlanta, Georgia.
Messe Frankfurt has decided to cancel Luminale. It was to be held in Frankfurt and Offenbach, Germany, from March 12 to 15.