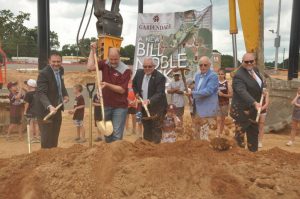 The City of Gardendale, Alabama, has initiated a multimillion-dollar redevelopment project, to transform its quaint Bill Noble Park into a year-round sports hub.
The city broke ground on the project at the beginning of June, with construction slated for completion by spring 2023.
The project was announced earlier this year, as part of an organized plan to revitalize the park. The design was comprehensive, with a project team which included Alabama-based firm LBYD Engineers as project coordinator, along with Williams Blackstock Architects, HNP Landscape Architect, and Stone Construction.
Once complete, the park will feature nine baseball/softball diamonds, eight tennis courts, 11 pickleball courts, and a host of other amenities for guests to use.
"The park will strike a balance of use for the Gardendale community to enhance sports and recreation opportunities for our residents while also becoming a regional outdoor sports destination," said Mayor Stan Hogeland.