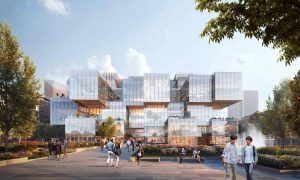 The design for Alibaba's Shanghai headquarters by the U.S. firm Skidmore, Owings & Merrill (SOM) reveals a distinctive, modular layout reliant on expansive column-free, long-span spaces and a variety of enclosed areas to accommodate a diversity of workstation layouts to suit expanding, contracting and overlapping teams.
"'The only constant is change' is one of Alibaba's guiding principles," says SOM design partner Scott Duncan. "We took this ethos to heart, designing a workplace capable of evolving and adapting to new needs, teams, and technologies over time. The headquarters is designed in dialogue with the existing campus, inverting the neighboring building as it unfolds across cantilevered masses and staggered, green terraces."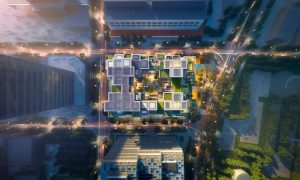 Designed to evoke a cloud formation, the building symbolizes both Alibaba's digital presence as a leader in cloud computing, as well as the technology industry's shifting skies of innovation. The 75,000-m2 (807,294 sf) headquarters will accommodate the rapid expansion of Alibaba's multinational team with design features prioritizing flexibility and healthy working habits for their employees.
At the center of the "cloud," an interior courtyard will serve as a central location for programming and teaming. Along the exterior perimeter, collaborative work and gathering spaces will seamlessly extend onto outdoor terraces, providing employees with access to nature, fresh air, and views of the Huangpu River, which weaves through the heart of the city. "Collaboration bridges" and communicating stairs will create places for smaller-scale exchange and connections between individual team members.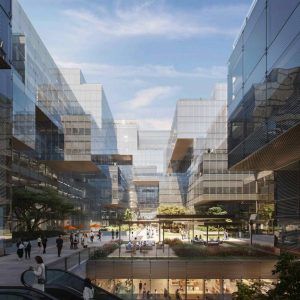 The building has also been designed to meet the requirements for LEED v4 and China Green Star, by minimizing both embodied and operational carbon. Its high-performance facade is designed to redirect up to 40 per cent of solar heat gain and minimize glare and wind tunnels for occupants on the terraces. The building will be naturally ventilated, with smart systems relying on fresh air to reduce cooling needs in Shanghai's sub-tropical climate. Temperature moderation is further enabled with an AI-controlled shading system responsive to the sun's movement to mitigate heat absorption. Roof gardens will allow for rainwater harvesting.