AAMA 611 and 2605 will offer the highest performance finish for interior aluminum framing systems in high-traffic environments, such as workspace partitions, indoor storefronts, arena suites, or classrooms. In these high-touch settings, some opt to enhance the durable finishes by selecting architectural coatings infused with antimicrobial protection. The factory-painted and anodized aluminum framing is easy to clean and requires little maintenance.
If the aluminum framing systems are not experiencing daily use, or they frame interior transoms or clerestory features out of reach, specify a less stringent performance for the finish. Lower performance coatings also may result in lower finishing costs.
Offering the lowest level of performance, one can specify baked enamel acrylic/polyester paints to meet AAMA 2603, Voluntary Specification, Performance Requirements and Test Procedures for Pigmented Organic Coatings on Aluminum Extrusions and Panels. As an intermediate option, specify 50 percent fluoropolymer resin-based architectural coatings that meet AAMA 2604, Voluntary Specification, Performance Requirements and Test Procedures for High Performance Organic Coatings on Aluminum Extrusions and Panels. Both these standards were updated in 2022.
Most manufacturers of interior aluminum framing provide systems with a 51 mm (2 in.) face and a choice of 114 or 140 mm (4.5 or 5.5 in.) depths. The system anchors at the glass pocket, which accommodates standard glass thicknesses. This can be modified to hold glazing and other panel inserts with thicknesses ranging from 6.3 to 19 mm (0.25 to 0.75 in.).
Manufactures ship the finished aluminum framing to the jobsite in "stick" lengths for fabrication with screw spline construction. This allows contractors to order the material prior to having the exact opening dimensions, and to adjust the material as necessary at the jobsite.
Gaskets position and secure the glass, glazing or other insert panel between the aluminum framing members. Bulb gaskets at the interior/exterior joint with drywall provide a uniform appearance and do not require sealant.
Typically, the contractor installs the interior aluminum framing systems after drywall, completely covering the end of the stud wall. Specialized adapters allow framing installation before drywalling, where necessary.
Perimeter trim adapters also provide a breadth of design configurations. To quicken installation, some manufacturers pre-apply trim to one side of the frame to assist in positioning the system in the opening. Options also are available for knee wall conditions, and for channel head and sill components. The manufacturer can integrate swing doors within the framing system, without thresholds as part of their standard package.
Quality assurance and warranties
To ensure consistency in quality, warranty, finish, and product compatibility, consider specifying a single manufacturer as the basis of design as permissible. Providing the designer can meet the project criteria, it could specify a single-source manufacturer for both interior and exterior aluminum framing system applications, again as permissible.
For extended quality assurance, consider including language to specify the manufacturer and the installer have a certain number of years of documented experience. This number may vary depending on the project's complexity.
For example, five to 10 years may be suitable for a Class A office build-out, where at least 20 years of experience may be preferrable for a highly secured government center.
Warranty terms also should reflect the project's intended use and longevity. Two years is typical for standard tenant improvement projects where changes are frequent. Request 10 years (if possible) for low-turnover facilities, such as owner-occupied spaces or government centers.
The warranty language generally states the manufacturer agrees to repair or replace defective aluminum framing components. In addition to this, specify a separate warranty to cover the factory-applied finish on extruded aluminum framing.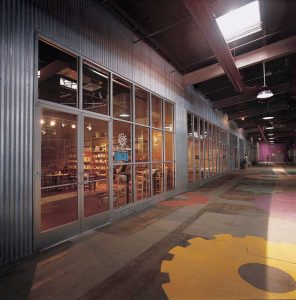 Five years is common for architectural coatings that meet AAMA 611 Class I or AAMA 2604, with an option of up to 10 years. Baked enamel finishes that meet AAMA 2603 only have a one-year warranty as standard. For high-performance coatings meeting AAMA 2605, 10 years with an option of up to 20 years can be expected, and many provide dependable performance for up to 40 years or more. Further supporting sustainable design goals, the aluminum framing members
can be locally recycled at the end of its long life in the building.
Involving potential manufacturers and construction input early in the project's development can assist with product specifications and selection criteria for optimal performance, sustainability, and longevity.

Author
Brian Tobias is a Leadership in Energy and Environmental Design (LEED) accredited professional who serves as the senior manager of product strategy for Tubelite Inc. and its aluminum-framed storefront, curtain wall, entrances, and daylight control systems. Drawing from nearly 35 years of experience in architectural metal products and sustainable commercial building projects, he continues to share his knowledge with architectural, specifications, and glazing industry professionals.