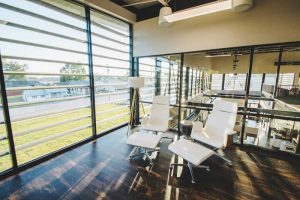 Performance considerations
Unlike storefront, curtain wall, window wall, and other exterior aluminum framing applications, interior aluminum framing systems are not subject to constant exposure to changing temperatures, wind speeds, precipitation, and other environmental conditions. Except in unique areas that bridge indoor and outdoor spaces, such as a transit facility, design wind load calculations are not necessary for interior framing systems.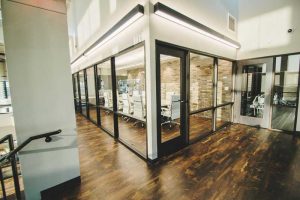 Designers do not consider interior aluminum framing systems to be structural components; therefore, structural performance calculations—air infiltration, static and dynamic water resistance, and structural design load and overload—are unnecessary in most cases. A multi-story or long-span curtain wall or window wall system enclosing an interior lobby or atrium would be an exception.
When an aluminum-framed opening becomes a full-height wall, the building code for life-safety may be relevant. These cases can include fire and seismic protection considerations. In projects with potentially vulnerable occupants, such as small children or people with limited mobility, the authority having jurisdiction may require test reports for the full wall and fenestration assembly to demonstrate compliance with emergency egress.
To avoid unwanted heat transfer designers often specify a thermal break at the juncture of exterior framing and interior aluminum framing—meaning they separate and insulate the interior and exterior surfaces. Thermal breaks in a framing system help occupants stay comfortable and building systems operate efficiently. In climate-controlled interior spaces, thermal performance and condensation resistance should not be of concern.
Thermal breaks integral to interior aluminum framing systems offer the added benefit of enhanced acoustical performance. If acoustic privacy is a priority on an enclosed interior room, then one may consider interior aluminum framing systems with insulating thermal barriers for use as a full-height wall. Keep in mind, these walls should extend from slab to slab if they are to effectively help block sound (the floor slab, ceiling, HVAC, furnishings, and finishes also affect interior acoustics).
Glass and metal are inherently hard surfaces that reflect and reverberate soundwaves. In aluminum-framed full-height interior walls with glass inserts, the designer can reduce sound transmission by specifying insulated glass units (IGUs) with large air spaces between lites. Laminated glazing, which is composed of plastic interlayers, also aids in dampening sound.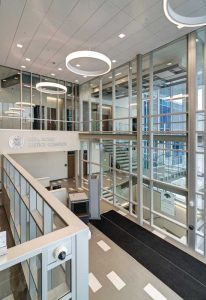 Acoustic performance of exterior walls usually is specified as an outdoor-indoor transmission class (OITC). Sound transmission class (STC) measures transmission between interior walls. With both ratings, a higher number indicates higher acoustic performance. An STC of 31 is typical for interior aluminum framing systems with 12.7 mm (0.5 in.) monolithic glass and an STC of 36 for systems with 12.7 mm laminated glass. For comparison, an STC of 50 would indicate a high level of performance for a solid wall with metal stud and drywall construction. An STC of 50 would indicate exceptional performance for an interior aluminum framing system with a double-glazed insulating glass unit with a 101.6 mm (4 in.) airspace and laminated glazing.
When requesting STC ratings, remember to note the intended use is for an interior wall. Otherwise, many architectural glass manufacturers may assume it is for exterior use and provide initial performance data with OITC ratings. Neither OITC or STC ratings are commonly referenced with partial-height walls and partitions. Since they do not extend from full height from slab to slab, they do not effectively block sound. Depending on their construction and mass, they may dampen noise when the sound source and the listener are in direct proximity to the partition.