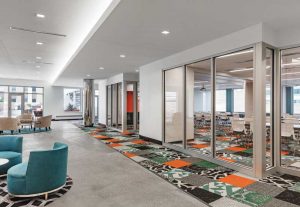 Combining observational transparency and physical barriers, aluminum-framed full-height or partial-height interior walls with glazing are increasingly seen in secondary interior entrance systems. Secured entrance areas, executive offices, conference and meeting rooms, classrooms, retail stores, and other enclosed spaces frequently rely on swing doors. This includes expansive entrance systems, where swing doors are complemented by surrounding glass and aluminum-framed walls. Secured entrances can be specified to meet robust performance requirements, such as ballistic-resistant or blast-mitigating glazing. Aluminum framing also may be reinforced with steel when required.
Modern design trends favor transparency and daylight achieved through large glass lites and narrow sightlines. Aluminum-framed entrances can feature a single, uninterrupted glass lite with narrow 54 mm (2.125 in.) vertical stiles and top rail for light to moderate use in commercial buildings. Other configurations include two or more lites in openings of equal or asymmetrical sizes, and stiles and rails in medium, wide, or custom sizes. Further modification and customization can be achieved with hardware, glazing, and finishes.
Material composition and disclosure
The manufacture of aluminum extrusions for the interior framing system should be in accordance with ASTM International B221, Standard Specification for Aluminum and Aluminum-Alloy Extruded Bars, Rods, Wire, Profiles, and Tubes. This standard was updated in October 2021.
For optimal appearance and performance, specify alloy 6063-T6 or 6063-T5. It should be extruded within commercial tolerances and free from defects that impair strength or durability. Supporting green building goals, one can specify aluminum interior framing members with recycled content.
If the owner is pursuing Leadership in Energy and Environmental Design (LEED) v4 certification for the project through the U.S. Green Building Council (USGBC) and it requires the aluminum to be manufactured with recycled content, the requirements for the secondary billet should be
in the specifications. Remember to note this requirement in both Division 1 and 8 with the actual pre-consumer and post-consumer recycled content values based on weight to ensure the extruded aluminum is ordered and manufactured as per the specifications.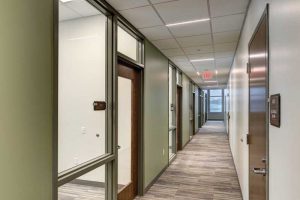 Be aware aluminum framing system manufacturers commonly use 100 percent primary (non-recycled) aluminum content as standard and may not have source data or supporting documentation readily available. Early in the project's development, confirm that potential manufacturers will be able to provide not only the specified material, but also the required documentation.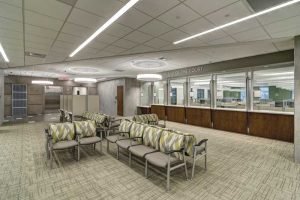 In LEED v4 and v4.1, the "Materials and Resources—Building Product Disclosure and Optimization" category may contribute three credits and up to six points: MRc2 Environmental Product Declarations (EPDs), MRc3 Sourcing of Raw Materials, and MRc4 Material Ingredients. Depending on the project, examples of supporting documentation to specify for LEED certification include:
an industry-wide or product-specific Type III EPD.
a compliant embodied carbon optimization report or separate action plan.
sources and locations of aluminum extraction and manufacturing.
Health Product Declarations (HPDs)
Cradle to Cradle (C2C) certified version and level.
Declare label and level.
The finishes used on the aluminum also may affect the overall sustainability of the framing system and the project. Aluminum framing systems with anodized finishes include a Declare Red List Free label to ensure compliance to the Living Building Challenge criteria as per the International Living Future Institute (ILFI).
System finishes, components, and installation
Architectural finishes protect and enhance the aluminum material. Complementing commercial design and decor, interior framing and door systems can be finished in nearly any color paint, anodized metallic tones, and specialty options. Specialty finishes include biophilic choices that mimic the look and feel of wood grain and stone, such as aged oak or textured terra cotta.
For high-performance, interior applications, specification professionals note these finishes should either be a Class I anodizing that meets the Fenestration and Glazing Industry Alliance's (FGIA's) AAMA 611, Voluntary Specification for Anodized Architectural Aluminum, or a 70 percent fluoropolymer resin-based architectural coating that meets AAMA 2605, Voluntary Specification, Performance Requirements and Test Procedures for Superior Performing Organic Coatings on Aluminum Extrusions and Panels. AAMA 611 was updated in 2020 and AAMA 2605 was updated in 2022.