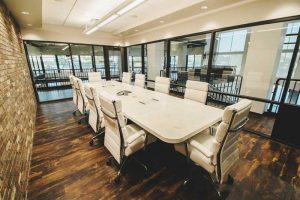 By Brian Tobias, LEED AP
For commercial offices, retail, and hospitality spaces, government centers, school classrooms, and other interior buildouts, architects and interior designers can pair aluminum framing systems with glass or other insert panels to balance connectivity and transparency with productivity and privacy.
While the components are similar, the performance requirements for these interior applications differ from those for exterior storefront and framing systems. Interior framing systems accentuate ease of installation for fast-track construction, aesthetic flexibility, and sustainable design criteria.
Typical applications, features, and benefits
Interior aluminum framing systems are most popular and functional in the following applications:
Full-height walls
Partial-height walls and partitions
Interior window systems
Interior entrance systems
Their primary purpose is to divide and define interior spaces. Using interior aluminum framing systems with glazing inserts provides physical separation, while maintaining visual connections. For example, one may install these framed openings as interior entrance systems with adjacent side lites and transoms, long spans of glazing along a corridor, glass walls enclosing a meeting room, clerestory windows at the top of an interior wall, or as partial-height divisions between study nooks or workstations.
Translucent or transparent interior glass and glazing maximize the opportunity to project natural light from exterior walls into the building's interior. Effective daylighting design strategies reduce the need for electric light sources and associated HVAC loads, which saves on initial costs of light fixtures and equipment, and improves the building's operational efficiency. Energy-efficient buildings not only conserve natural resources, but also have
a smaller carbon footprint, benefit from lower utility costs, and maintain a comfortable, consistent indoor temperature.
In North America, people spend 90 percent of their time indoors. Studies show when people have access to daylight, views, and a comfortable temperature, they are happier, healthier, and more productive. Retailers with daylit stores generate higher sales than those without natural light. Students have better concentration and higher academic performance in schools designed with daylighting. Further, teachers and other employees with naturally illuminated workplaces report higher job satisfaction, lower absenteeism, and perform tasks with greater accuracy.
Clear, transparent glass presents a full view and allows for maximum light. Tinted and translucent glazing, or dynamic glazing that switches from clear to tinted, balances transparency with a degree of visual privacy. Opaque glazing, fabric-padded panels, drywall, or other solid inserts trade daylighting and views for the highest level of visual privacy.