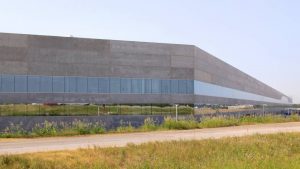 Whistleblowers have come forward with claims of grave labor and employment violations for the construction workers employed in building Tesla, Inc.'s automotive manufacturing facility Gigafactory Texas, in Austin, between 2020 and 2022.
These workers claimed to have also filed last week a formal complaint and a case referral with the federal labor department's Occupational safety and health Administration (OSHA). According to Guardian, one of the workers reported in a statement that required training about workers' health, safety, and rights was waived off by an unnamed subcontractor, replacing the documentation with fake certificates of completion. He also said that his team was asked to work on the factory's metal roof at night without any lights, toil away on top of smoke-billowing turbines without protective masks, and in one specific instance, work on a flooded floor strewn with live wiring with cords submerged in water. Other workers complained about hazardous working conditions too, as well as on-the-job accidents, and wage theft, in the form of either not being given any compensation for their work, or for the overtime they put in.
As an example, some of the workers who put in hours over last year's Thanksgiving never received the promised double-pay bonuses, as stated in Tuesday's case referral to the federal Department of Labor's wage and hour division.
"Tesla was not—didn't seem—interested in using their power to ensure that everyone was able to go home at the end of the day without injuries, with all the money that they're owed in their pockets," said Hannah Alexander, a staff attorney for Workers Defense Project, a non-profit helping the construction workers.
Tesla has so far refrained from responding to a request to comment, so has the Workers Defense Project held back from sharing identifying information about the accused contractors and subcontractors for confidentiality reasons amidst investigation.
Between 2014 and 2018, OSHA fined over $236,000 to Tesla's plant in Fremont, California, for labor violations, a figure far greater than other US automakers. Similarly at its factory outside Reno, Nevada, workers have faced a slew of injuries, including amputations.