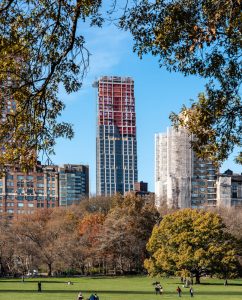 In an astonishing decision, a New York State Supreme Court judge has ruled that as many as 20 floors or more must be taken out from the top of the almost-complete 200 Amsterdam Avenue tower in Manhattan.
The 39,484-m2 (425,000-sf), 52-story condominium is designed by Elkus Manfredi Architects with interiors by CetraRuddy. The superstructure topped out in December last year.
According to The New York Times, "the decision is a major victory for community groups who opposed the project on the grounds that the developers used a zoning loophole to create the tallest building on the West Side north of 61st  Street."
"We are very gratified that after a long fight, the gerrymandered zoning lot at 200 Amsterdam has been declared illegal. This groundbreaking decision averts a dangerous precedent that would have ultimately affected every corner of the city," said Elizabeth Goldstein, president of the Municipal Art Society of New York (MAS) in a press release. "The directive to partially demolish the building is appropriate given the willingness of the developer to ignore every sign that their project was inappropriately scaled for the neighborhood and based on a radical and wildly inaccurate interpretation of the zoning resolution."
Last Thursday, Justice W. Franc Perry ordered the New York City Department of Buildings to revoke the building permit for the tower and deconstruct all floors exceeding the zoning limit. The definite number of floors to be taken off is unclear, but under one interpretation of the law, the building might have to get rid of 20 floors or more, as per The New York Times.
While developments of this kind are usually modified in the planning process to adhere to zoning regulations, construction of the 204-m (668-ft) building is almost complete, reports The Architect's Newspaper.
In a statement, the developers SJP Properties and Mitsui Fudosan told The Associated Press they will appeal the decision "vigorously in court."