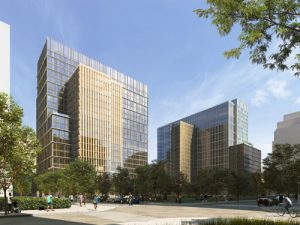 Amazon's second headquarters HQ2 in Arlington, Virginia, is going into the first phase of construction. With this new campus, the tech giant seeks to support local businesses, build new public spaces, and integrate sustainable design features.
HQ2 is part of the Metropolitan Park site, an existing urban renewal and development project in National Landing. The first phase of the 'ground-up' construction will see the redevelopment of a block of vacant warehouses into two new Leadership in Energy and Environmental Design (LEED) Gold-certified buildings, retail spaces, and open areas for the community. These buildings are the first step to creating an urban campus where 25,000 future employees and the local community can intermingle.
The new site will include:
energy-efficient office buildings with state-of-the-art workspaces and green outdoor terraces in two 22-story towers covering more than 195,096 m2 (2.1 million sf);
more than 4645 m2 (50,000 sf) of new retail space for shops, restaurants, and a daycare center;
a new public open space covering 0.4 ha (1.1 acre) designed for a variety of uses, including a dog park, recreation areas, and farmers markets;
space for 600 bikes in onsite bike facilities; and
two metro stations in close proximity, in addition to multiple bus lines and a VRE station.